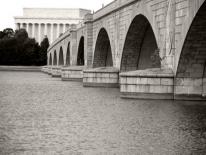 Floodplain Management in the District of Columbia
Federal law requires property owners in high-risk flood zones to purchase flood insurance through the National Flood Insurance Program (NFIP) as a condition of federally insured financing. The Department of Energy & Environment (DOEE) coordinates the District's participation in the NFIP, and works with the Federal Emergency Management Agency (FEMA) and District agencies on implementation. DOEE's floodplain management program has regulatory authority and also provides technical assistance to District property owners and other interested parties on issues such as the NFIP, floodplain management, flood insurance, floodplain development requirements, floodplain mapping, and flood mitigation. See the Residential Stormwater and Flooding section for details. You may also want to directly view detailed flood zones in your area.
Federal Emergency Management Agency (FEMA)
FEMA was created to support citizens and first responders to help improve our nation's capability to prepare for, respond to, and quickly recover from all types of hazards.  FEMA coordinates the federal governments' role in assisting citizens during domestic disasters, including acts of terror.
FEMA traces back to the Congressional Act of 1803. The act provided support to a town in New Hampshire following a large fire. As more disasters began occurring, it became necessary to create and execute a program that would respond to similar tragedies. In 1979, President Jimmy Carter created the Federal Insurance Management Agency whose focus was towards disaster-related responsibilities. Since then, FEMA's mission has remained: to lead America to prepare for, prevent, respond to and recover from disasters with the vision of "A Nation Prepared."
National Flood Insurance Program
The National Flood Insurance Program is a federal program managed by FEMA with the goal of reducing future flood damages.  This program includes flood insurance, floodplain management and flood hazard mapping. Congress created the NFIP in 1968, with the passing of the National Flood Insurance Act, to address the fact that homeowners insurance does not cover flood damage and to offer an alternative to federal disaster relief programs.
Nearly 20,000 communities across the nation (including the District) now participate in NFIP through the adoption and enforcement of floodplain management regulations. In return, NFIP makes federally backed flood insurance available to homeowners, renters, and business owners in these communities, regardless of their flood zone risk level. NFIP also establishes building standards that help prevent flood damage, and develops maps of the nation's flood plains to create awareness of flood hazards and provide data needed to rate new construction for flood insurance.
Flood damage is decreased by almost $1 billion a year through community enforcement of floodplain management requirements and property owners who purchase flood insurance. In addition, buildings that are constructed in agreement with NFIP building standards experience about 80% less damage annually than those that do not meet the standards.
Floodplain Management Strategies
Floodplain management is the operation of a community program with measures to prevent or reduce flood damage. One method of accomplishing this is through zoning laws and special-purpose floodplain ordinances. When the community agrees to adopt and enforce such measures, the members of that community become eligible to purchase flood insurance. Even with preventative measures, floods can still occur and can still cause significant damages.  Flood insurance greatly offsets the individual costs associated with flood damages.  Currently, there are over 20,000 communities across the nation that enforce local floodplain management methods and participate in the NFIP.
To begin preparing for a disaster, it is important to determine your risk. Make sure you and your family are aware of all potential hazards in your community. Make sure you know escape routes, evacuation plans, and have insurance records readily available. Keep all necessary emergency supplies (such as first aid kits, clothing, tools, non-perishable foods, and water) together in an accessible location.
To learn more about what you can do to protect your home, we encourage you to visit FEMA's Information and Guidance on Building Safer.
DC Silver Jackets Team
DOEE is a co-leader and founding member of the District of Columbia Silver Jackets Team. This interagency team is comprised of members from federal, District of Columbia and regional agencies, as well as academia. The DC Silver Jackets Team leverages resources to identify and implement comprehensive, resilient, and sustainable solutions to reduce flood risk around the District and to assist local communities. Flood risk management is critical in the District, as there are three types of flooding that can impact low areas of the city: river; coastal storm surge; and interior. For more information, please visit Silverjackets.