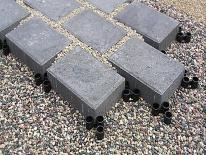 Pervious Pavers Defined
Pervious pavers permits water to seep around and through their paved surface, and soak naturally into the ground underneath. In short, pervious pavement is a self-draining system.
Aesthetically pleasing pervious pavers are commonly used for patios, walkways, driveways and landscaping.
Benefits of Pervious Pavers to the Homeowner
Pervious pavers are more aesthetically pleasing than conventional pavement and provides many advantages for the homeowner. Pervious pavers:
Comes in more colors and shapes than traditional concrete or asphalt
Can create a longer-lasting surface compared with conventional concrete
Reduces basement flooding caused by rain storms that overload sewers
Increases natural irrigation of your yard, reducing water use and cost.
Benefits of Pervious Pavers to the District
The District is promoting the installation of pervious pavers because it improves the health of local streams and waterways by producing substantially less stormwater runoff than conventional pavements. In addition, pervious pavers:
Reduces installation/construction costs of drainage systems (i.e. they eliminate the cost of piping stormwater to an outfall)
Promotes groundwater recharge, increasing both the quantity and quality of water
Reduces flooding and erosion caused by flooding
Promotes tree survival by providing air and water to their roots.
How to Have Pervious Pavers
Pervious pavers may have a higher cost in the initial stage of installation, but you will find that in the long run, the cost will even out with conventional paving.
Pervious pavers come in a variety of types including grass pavers, gravel pavers, interlocking concrete pavers and porous concrete. The type you install is dependent upon site specifics and usage.
Want to have pervious pavers in your yard? RiverSmart Homes can help.
DOEE's RiverSmart Homes District-wide program offers incentives to homeowners interested in reducing stormwater pollution from their properties. Pervious pavers are one of the environmentally friendly landscaping practices available through this program.  To be eligible for the pervious paver subsidy, you must be replacing or removing an existing impervious surface (concrete, asphalt, etc) like a driveway or parking area. Walkways and small patios are not eligible.
Pervious Pavers: Additional Resources
Pervious Pavers Flyer [PDF]
Products and Resources for Homeowners and Professionals