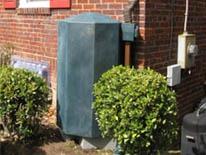 Rain barrels capture and store the rainwater running off your rooftop. The harvested rainwater can be stored for later use; released slowly over time to infiltrate properly; or used immediately to water lawns and landscaped areas, fill ponds or fountains, or wash cars.
Rain barrels come in a variety of sizes and shapes. Design improvements help eliminate the threat of basement flooding and also keep them from becoming breeding grounds for mosquitoes.
How a Rain Barrel Works
Rain barrels connect to the downspout from your roof. They should be located in an easily accessible area, not too far from the area where you intend to use the stored water (i.e., a garden or lawn).
To facilitate the use of gravity, rain barrels should be placed on the highest elevation that is workable, or on a small stand. Rain barrels should also have an overflow valve that directs water away from the foundation of your house.
Benefits of Rain Barrels to the Homeowner
Rain barrels require little maintenance and are a great way to save money and conserve water as a natural resource. With a rain barrel you can:
Cut your household use of water during the hot summer months
Water your plants with chlorine-free rainwater that they prefer
Clean your car, bike, tools, etc. without ever using the faucet
Save money on water bills
DOEE's RiverSmart Homes program offers two rain barrels per property for a $45 copayment per barrel. Homeowners must sign up and receive a stormwater audit. Learn more about the process.
DOEE also offer the Rain Barrel Rebate Program for homeowners who do not want to wait for the stormwater audit or want a difference type of rain barrel than the one offered through the RiverSmart Homes program. Homeowners can purchase and self-install up to two rain barrels and receive between up to $1,000 as a rebate. More information, including rain barrel criteria and application materials are available.