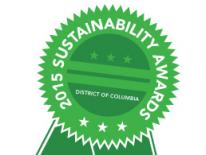 About the 2015 Sustainability Awards
The annual Sustainability Awards recognize outstanding businesses and organizations for their environmental stewardship, innovative best practices, pollution prevention, and resource conservation. If you are considering applying for an award, we recommend that you track the energy consumption, water usage, recycling, and "green projects" for your facility.
Who in our community is building a greener, more sustainable future? Nominate a business, school, organization or individual!
For more information please contact marylynn.wilhere@dc.gov.
___________________________________________________________________________