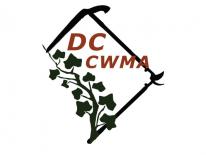 Invasive plants are recognized as one of the greatest threats to wildlife and natural ecosystems in North America. In the lasts several centuries many non-native plants have been introduced to the DC area, a city with large forested parks.
In 2008, a group of invasive plant managers started working to develop Cooperative Weed Management Area (DC-CWMA) to restore the District's natural area by working collectively to reduce ecological damage by invasive plants
Mission: Our mission is to restore natural habitats and ecosystems and to protect biodiversity by working to eliminate invasive plants in DC through a coordinated effort across political and ecological boundaries.
Vision: DC's CWMA will coordinate and facilitate invasive plant management throughout the District. Washington DC's natural areas will be managed to minimize the impact of invasive plants, increase biodiversity and benefit native species. Recovered areas and habitats currently free of invasive plants will be protected from new invasions. DC residents will be more aware of the effects of invasive plants on local ecosystems and engaged in invasive plant management.
Goals:
Protect biodiversity and restore natural habitats to self-sustaining core populations of native plants and wildlife.
Reduce and minimize the ecological impacts of invasive plants in natural and developed areas of the city.
Share and leverage limited resources across several agencies and non-governmental organizations to maximize efficiency and the effectiveness of our actions.
Build public awareness of the issue and the seriousness of exotic plants in natural areas.
What We Do:
Our mission is to restore natural habitats and ecosystems and to protect biodiversity by working to eliminate invasive plants in DC through a coordinate effort across political and ecological boundaries.
For project sites and partners, the DC CWMA will:
Perform an assessment of density of invasives, considering the impact on native species.
Coordinate invasive removal measures using Integrated Pest Management (IPM).
Educate and train interested individuals and site leader(s) on invasive plant management and the use of native plants.
Design and implement education and outreach programs for various audiences .
Engage DC residents in restoration efforts on natural spaces in DC.
How We Do It:
The DC CWMA's strength lies in the expertise and engagement of our partners and their concerted efforts towards accomplishing the mission of the cooperative. The DC CWMA works with various partners on different aspects of the invasive plant problem from on-ground removal and restoration to data collection/mapping and policy initiatives.
We will work with partners and associates have the greatest impact in the district through focused planning and the scientific establishment of priorities directing programmatic activities.
We will work in the following programmatic areas:
Prevention
Containment
Suppression
Education
Cooperation
Restoration
Early detection & Rapid Response
Information management
Integrated Pest Management
Get Involved:
You can work with us in several different ways:
Volunteer to work with us at one of our sites (including national parks, DC parks and others) across the district.
Become a DC Weed Warrior or site leader and receive invasive plant ID and removal training.
Join our of Committees and share information on the area of your interest regarding invasives.
Suggest a site (public greenspace, urban woodland) in DC for us to evaluate .
Join the list-serv to learn about or post information regarding future invasive removal event, upcoming trainings and other information. http://groupspaces.com/DCCWMA/public/contact
To Contact Us:
DC Cooperative Weed Management Area
1200 First Street NE, Suite 684B
Washington, DC 20002
For more information, email Damien Osse or call 741-0840.