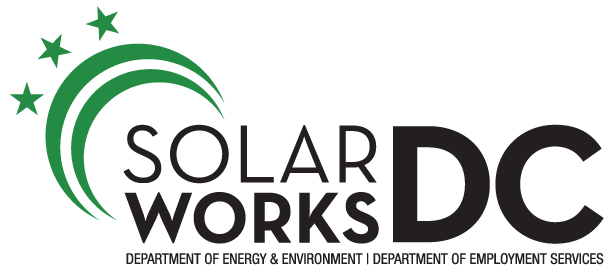 DOEE and the Department of Employment Services (DOES) partner to offer Solar Works DC, the District's low-income single-family solar photovoltaic (pv) installation and job training program, as part of the DOEE Solar for All initiative. Solar for All, established by the Renewable Portfolio Standard (RPS) Expansion Amendment Act of 2016 and funded by the Renewable Energy Development Fund, seeks to increase access to clean energy and to create a long-term pipeline for green jobs in the District. Specifically, the program intends to increase the District's RPS to 50% and to provide the benefits of solar energy to 100,000 low‐income residents by 2032. The cost savings per household for installing solar systems is roughly $15,000. This translates to approximately $600 in savings per year.
This Program is designed to prepare District residents to enter careers in solar and related industries, increase solar capacity in the city, and reduce energy costs for qualified low-income homeowners. Solar Works DC operates cohorts year round (fall, spring and summer) and recruits District men and women, ages 18+. The summer cohort recruits solely from the Marion Barry Summer Youth Employment Program (MBSYEP) /Green Zone Environmental Program (GZEP) pool of participants. To participate in Solar Works DC, applicants must be 18-24 years in age, District residents, and enrolled in MBSYEP.
Program Participants will receive a completion certificate, and OSHA 10 and CPR/First Aid certifications. The fall and spring cohorts will be prepared to sit for the National Association of Board Certified Energy Professionals (NABCEP). As a result of the program and commitment of our program participants, Solar Works DC, has increased solar capacity in the District, homeowners have seen a reduction of 50%-90% reduction in their electric bills making great impact and savings, and has placed countless program graduates in entry-level jobs in the solar and related fields. Solar Works DC also offers full-time case management, critical support services, and work readiness/ remedial training to optimize outcomes for all program participants.
GRID Alternatives Mid-Atlantic currently implements the program, and the program is located within the DC Infrastructure Academy in ward 8. The program intends to train at least 150 District residents each performance period, and completes live solar system installs on up to 45 income-qualified households. The program launched in summer of 2017 and is the premiere solar training program for the District.
How the Program Works
GRID Alternatives Mid-Atlantic, a nonprofit that works with local government and communities on renewable energy installation and job training initiatives, implements the Solar Works DC program. Program participants are introduced to careers in solar and related industries and qualified low-income homeowners, at no cost to them, can reduce their energy costs by installing solar systems on their homes.
Solar Works DC operates three training cohorts throughout the year. Program participants must complete the GRID's Installation Basics Training (IBT) program and demonstrate competency in real-world solar installations to earn industry certificates. Additionally, program participants must attend customer outreach and construction workshops, successfully complete their CPR and OSHA 10 training to be certified, and take the NABCEP PV Associate Credential exam.
Program Details
Training is 7-weeks long, Monday to Friday(up to 35 hours per week)
Program is a hybrid model of classroom education and on-the-ground solar training, which includes:

Classroom instruction includes GRID's Installation's Basics Training, mock install demonstrations, construction basics, outreach and marketing, energy efficiency, professional development workshops, and more. Classroom sessions begin at 9am
On-site live solar installations are scheduled throughout all 8 wards in the District. Install days begin at 7:30 am.

Transportation may be provided to and from Anacostia Metro (green line) and the DC Infrastructure Academy. Solar Works DC provides shuttle service to and from the DC Infrastructure Academy and install sites.
Career development workshops and job placement support for up to six months once program is successfully completion. The program also provides full-time case management for the duration of the program.
All applicants will be processed through the DC Infrastructure Academy and must take the Comprehensive Adult Student Assessment Systems (CASAS) test for basic math and reading, and complete a PAID two (2) week work readiness prerequisite.
The DC Infrastructure Academy pays a $10 per hour flat training wage directly to all trainees.
Minimum Qualifications to Participate
Must be a District resident and show proof of residency
Must be at least 18 years old and show proof of age
Must have a high school diploma or GED-equivalent
Must be able to commit to a 7-week program, Monday to Friday (up to 35 hours per week)
Must be able to climb a ladder and get on a rooftop for installations
Must be able to lift heavy equipment (rails, solar panels, etc.)
Must be able and willing to work in extreme temperatures
Interested in a career in the solar industry?
Registration for Solar Works DC is now open. Apply today!
Solar Works DC seeks District residents to participate in a 7- week program quick path to energy program. Previous experience in solar/ renewable energy, technical trade or construction is a plus, but not required. However, a genuine interest in learning this trade and forging a career path in this field is highly recommended.
Contact GRID Alternatives Mid-Atlantic at (202) 602-0191 or [email protected] for more information. All applicants will be processed through the DC Infrastructure Academy.
Interested in getting solar panels on your home?
Solar Works DC provides NO-COST solar for families with limited or fixed incomes. And you can save 50% or more on your electricity bills! Contact GRID Alternatives Mid-Atlantic at (202) 602-0191 or see if you qualify.