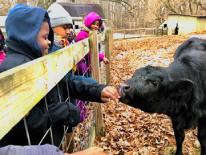 Note: Due to the constraints placed by COVID-19, the Overnight Watershed Experience is suspended for the SY21-22 school year. 
The 5th Grade Overnight Watershed Experience is a free program that provides DC Public and Charter School 5th grade classes a three-day, two-night overnight field study. The program builds off academic science standards and the Chesapeake Bay Program's Meaningful Watershed Educational Experience curriculum. Programs take place entirely during the school week. 
On their trip to the wilderness, students work with experienced environmental educators to complete hands-on lessons and field work that explores environmental issues impacting local watersheds. Students collect and analyze data and participate in team-building activities involving climbing walls, ropes courses, and canoeing. 
In addition to the overnight experience, the program includes two classroom visits (before and after the field study) and teacher professional development trainings. 
The Overnight Watershed Experience program is implemented through a partnership between DOEE and the Alice Ferguson Foundation. Participating schools visit a site operated by one of the following providers: 
Participating schools receive watershed education resources, such as watershed maps, water quality test kits, lesson plans, classroom demonstration tools and materials, posters, and supplementary curricula upon request. 
Interested in signing up your 5th grade class? Contact the Alice Ferguson Foundation at 301-292-5665 to learn more and schedule your trip!