Total Maximum Daily Load (TMDL) Program :
An Important Step Toward Restoring the Anacostia and Other Impaired Waters in the District
Did you know that District's Department of Environment (DDOE) works tirelessly to restore polluted rivers and streams in the District, namely the Anacostia and Potomac Rivers, and Rock Creek? Most of the District's rivers and streams are not clean enough to be considered 'swimmable' or 'fishable,' which are their designated uses. Instead, they are labeled as "impaired" because of various pollutants such as pathogens, organics, metals, pesticides, sediments and nutrients.
In order to restore these precious waters, DDOE's Water Quality Division (WQD) conducts various monitoring and research studies to identify the sources and amounts of pollutants being discharged from these sources to the District's waters. Highly trained Planners in the Water Quality Division determine how much pollutant a waterbody can receive and still meet water quality standards set by the WQD and approved by the EPA under the Clean Water Act . Water quality specialists use various water quality and watershed computer-based models and calculations to make those determinations. The maximum amount of a pollutant that a waterbody can receive and still meet the prescribed water quality standards is called "total maximum daily load" or TMDL. The Water Quality Division has prepared many TMDL documents that establish maximum pollutant limits and amount of pollutant loads allocated to sources responsible for the impairment. DDOE has developed more than 350 TMDLs for the District's impaired waters.
As with most urban areas, bacteria is a problem in our Rivers and in Rock Creek. As mentioned, we ultimately want our waterbodies to be fishable and swimmable. However, due to current high levels of bacteria these waters are considered impaired. Fortunately, the Water Quality Division has developed TMDLs for these waters to identify sources and determine how much pollution should be reduced to restore these waters. Sources of bacteria are many, including overflows from the City's combined sewer system (containing sewage) and from the separate storm sewer system where bacteria is washed off streets and alleys that contain bacteria from such things as pet waste and goose droppings. A TMDL for bacteria has been established to begin reducing or eliminating the many bacteria sources in order to return these waterways back to their designated uses of fishable and swimmable, and for recreation and aesthetic purposes. The bacteria TMDLs can be found here.
Unfortunately, pollution knows no political boundaries. Because the Anacostia and Potomac Rivers flow through parts of Maryland and/or Virginia, significant amounts of pollution are generated from these upstream sources. Therefore, DDOE found it important to develop TMDLs on a watershed-wide basis that will provide assessments of pollutant loads throughout the watershed. Further, when developed on a watershed scale, these maximum pollutant limits are based on a consistent approach across the jurisdictions. The District has recently developed watershed-based TMDLs for other chronic pollutants, namely sediments and PCBs. The establishment of multi-jurisdictional TMDLs represents a great accomplishment towards river restoration for people and wildlife.

Anacostia Sediment Limit
DDOE partnered with the Maryland Department of the Environment to develop a watershed wide daily load for sediment (also called total suspended solids (TSS) for the Anacostia River. Sediment refers to the loose particles of clay, silt and sand that suspend in a body of water and eventually settle to the bottom. It is a natural component of all rivers, but in excessive amounts sediment creates harmful conditions for the plants and animals living there. This new watershed-wide TMDL is very important for the Anacostia restoration efforts because it lays out specific restoration and pollution reduction goals for both jurisdictions. Because the restoration of the Anacostia cannot be achieved without significant pollution reduction in Maryland's portion of the watershed, the TMDL sets a common benchmark for both locales. This certainly is a milestone that will help accelerate overall watershed restoration efforts for the Anacostia. For more information see the Sediment TMDLs in the for the Anacostia Watershed [PDF]
Region-Wide PCB Limit for the Potomac and Anacostia Rivers
DDOE, jointly with Maryland's Department of the Environment and the Virginia Department of Environmental Quality, developed a watershed-wide PCB (Polychlorinated Biphenyls) TMDL for the tidal Potomac and Anacostia Rivers. PCBs are a group of man-made chemicals that were historically used in electrical equipment and in industrial and manufacturing processes until research revealed that they pose risks to human health, wildlife, and the natural environment. The federal government banned the production of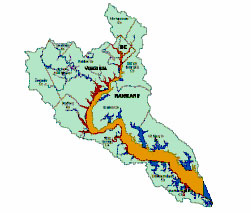 PCBs in 1976, but PCB contamination remains widespread in the environment today because of improper disposal of products containing those chemicals.
Portions of the tidal Potomac and Anacostia Rivers have been placed on impaired waters lists (of the Federal Clean Water Act 303(d)) for elevated levels of PCBs found in the fish tissue. The PCB TMDL was developed for the entire Potomac estuary, and existing sources of PCBs were identified, including: municipal storm sewer systems, combined sewer systems, wastewater treatment plants, and atmospheric deposition.
The objective of the PCB limit is to ensure that the "fish consumption use" is protected in the areas that contain PCBs. This TMDL was approved by EPA in October 2007 as scheduled. Although a TMDL was not due for Potomac and Anacostia waters in Maryland/Virginia until much later, DDOE recognized the importance of a regional watershed-wide TMDL much earlier in the process and pursued Maryland and Virginia to join a regional study of the problem. They agreed, and a TMDL steering committee was formed to lead the study. After three years of extensive monitoring, modeling, analysis, and many public/stakeholder meetings and comments, a PCB TMDL was developed jointly by the three jurisdictions. This effort is the first of its kind in the entire Chesapeake Bay region, and will certainly go a long way towards restoring the Rivers for all residents and visitors to enjoy. The PCB TMDL documents can be found here.
The District of Columbia is proud to take the lead on a technical endeavor like TMDLs – to improve water quality. They are a complex, but necessary part of any environmental plan to help our Rivers and Rock Creek get cleaner for people and wildlife.