<< Back to Skip the Bag main page
When did the District's law on paper and plastic bags go into effect?
Former Mayor Adrian Fenty signed the bill July 6, 2009. Most of the new law's provisions went into effect January 1, 2010.
Why did DC pass a bag fee for disposable paper and plastic bags?
The Department of Energy and Environment (DOEE) conducted a trash study in the Anacostia River, and found that disposable plastic bags were one of the largest sources of litter. Councilmember Tommy Wells (D-Ward Six) and 11 other members of the Council of the District of Columbia co-introduced the Anacostia River Clean Up and Protection Act of 2009, which then passed the Council unanimously.
The bag bill focuses on changing consumer behavior. By charging a nominal fee for disposable bags, just 5 cents a bag, rather than banning bags altogether, the bill encourages District residents to use less single-use disposable bags and to bring more reusable bags to stores.
What type of harm do disposable plastic bags have on our environment?
Plastic bags can trap fish, birds, and other wildlife, or become lodged in their stomachs. They can also damage the engines of motor boats by covering the cooling intake.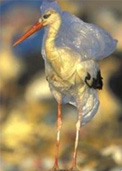 What types of businesses are affected by the bag fee?
District businesses that sell any types of food or alcohol are affected by the law.
How does the bag fee work?
As of January 1, 2010 all businesses that sell food or alcohol are required to charge 5 cents for every carryout paper or plastic disposable bag. The business retains 1 cent (or 2 cents if it offers a rebate when customers bring their own bag), and the remaining 3 or 4 cents goes to the Anacostia River Clean Up and Protection Fund.
How can I avoid paying 5 cents a bag?
You can avoid paying the 5 cent fee by bringing your own disposable or reusable bag to the store or restaurant. Some stores and restaurants will offer you a 5-cent credit per bag for bringing your own, so you'll actually save 10 cents. You can also choose not to bag your purchase.
How can I care for my reusable bags?
Wash them! You should launder your reusable bags often to keep them clean and prevent germs from accumulating. Wash them as regularly as you would your towels. Consider designating specific bags for grocery shopping and others for gym clothes, diapers, etc.
What can I do if I cannot afford reusable bags?
DOEE partners with a number of grocery and drug stores, District Government agencies, Council offices, and various community service organizations to give away tens of thousands of bags to low-income and senior District residents.
You can also bring disposable bags back to the store or restaurant and reuse them, avoiding the fee and receiving a credit on your bill at participating businesses. Finally, if you shop with a rolling cart that you bring from home, consider asking the cashier to put your groceries directly in the cart without bagging them.
If you are a District resident in need of reusable bags, please contact Lillian Power at 202-671-0080.
Does the Bag Law also change the type of disposable bags that I will receive when I buy something?
Yes. Under the Anacostia River Clean Up and Protection Act, businesses that sell food or alcohol may only sell or distribute recyclable plastic bags made from #2 or #4 polyethylene. If the business sells or distributes paper bags, these must also be recyclable, contain a minimum of 40 percent post-consumer recycled content, and be printed with a phrase that encourages recycling.
Are some paper or plastic bags exempt from the 5-cent fee?
The fee is designed to cover disposable paper and plastic carryout bags you receive at the register at businesses that sell food or alcohol; however, there are some exemptions. Bags used solely to hold the following items are not subject to the fee:
Bulk items, such as produce, nuts, grains and candy
Frozen foods, meat and fish
Flowers, potted plants or other items where dampness may be a concern
Small bakery goods
Prescription drugs
Newspapers
Small hardware items, such as individual nails, screws, nuts and bolts
A partially-consumed bottle of wine at a restaurant
Trash, pet and yard waste (when sold in a box of multiple bags)
Dry cleaning
Paper bags to take food home from a restaurant that has seating
Do restaurants have an exemption for paper bags?
Restaurants with seating are not required to charge five cents for paper bags only. Plastic bags are NOT exempt at restaurants. Food courts and fast-food restaurants are also included in this group and are exempt from the paper bag fee.
The paper bag exemption applies only to food items. If a restaurant sells a nonfood item, such as a CD, mug, hat or shirt, the restaurant is required to charge five cents for the paper bag or the plastic bag.
All other retail establishments that sell food or alcohol are required to charge $.05 for both paper and plastic bags.
How does DOEE use the fees collected from businesses?
The majority of the proceeds from the carryout bag fee go into the new Anacostia River Clean Up and Protection Fund. The retail establishment keeps one cent from the 5 cent fee for each bag. If the business also offers a bag credit program (giving you a 5 cent credit for bringing your own bag), it keeps an additional one cent of the fees it collects.
DOEE administers this fund and uses it to clean and protect the Anacostia and other local waterways. In addition, DOEE uses the fund to provide reusable bags to residents, fund watershed education projects, and conduct public education campaigns about the impact of trash on the District's environmental health. Proceeds from the Anacostia River commemorative license plate and DC income-tax contributions also go into the fund.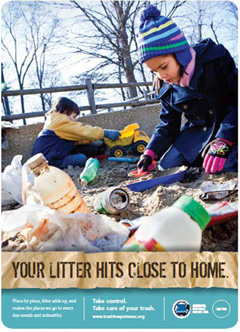 The Alice Ferguson Foundation created an anti-littering campaign on behalf of DDOE through Bag Law funds.