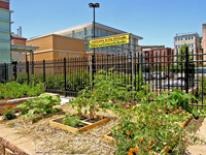 About Pollinator Gardening
Learn how District residents can beautify their yards and create valuable habitat for butterflies, bees, and other pollinators. Even a small backyard garden or balcony with the appropriate native plants can support pollinators that are necessary for healthy and diverse plant life in our city. See our FAQs and resources to help get you started.
FAQs
What are pollinators?
Butterflies, bees, birds, moths, bats, beetles, flies, and more. Any animal or insect that visits a flower can move pollen from one flower to another. Even the wind is a pollinator!
What are the benefits of native pollinator plants?
Attract pollinators necessary for growing vegetable gardens and fruit trees
Thrive without pesticides
Require little water
Improve air quality
Reduce stormwater runoff
Improve habitat (shelter and food) for wildlife
Increase the District's biodiversity (variety of plant and animal species)
Add beauty to your home
When should I plant pollinator plants?
Plant seeds in the fall or young plants in the spring.
Where can I plant? Anywhere in your yard or balcony that receives full sun to partial shade. A flower bed or bare ground is ideal; seeds will not establish in grassy areas. Please do not plant in the public right-of-way, including tree boxes and grass strips between the sidewalk and street. The District limits planting in these areas to specific trees, turf, groundcover, and shrubs that do not exceed 18 inches. Most pollinator plants exceed this height.
What are recommended pollinator plants for DC?
View a short list of native pollinator flowers, trees, and shrubs.
Are there pollinator plants I should avoid or remove?
Yes. Garden centers and catalogs sell many common invasive plants that are advertised as pollinator plants. While they may attract pollinators, invasives can spread rapidly and push out native plants that local wildlife (like birds) rely on for food and shelter. Avoid planting invasives and consider removing them if they are already in your garden. View a list of invasive pollinator plants.
How do I care for pollinator plants?
An established garden with native plants requires very little maintenance.
During the first season, apply a thin layer of mulch to suppress weeds and help young plants retain moisture. Repeated mulching is not necessary, but it can be beneficial to let fallen leaves decompose in garden areas.
Do not use pesticides or fertilizer. Native plants are adapted to thrive in the District's climate and soils.
Water new plantings every other day and then once a week as they become established. Plants that have been growing for more than a year will only need to be watered if they have not had rain for two weeks.
You can weed undesirable plants from native plant gardens, but be careful not to pull up new native plants. Many native wildflowers can seed prolifically. Dig up young plants and share them with friends, family, and neighbors, or replant them elsewhere in your own yard.
Leave dead flowerheads in your garden over the winter. Many pollinators lay eggs on the stems and leaves of native plants. Leave them until spring and then keep the cuttings in the garden or nearby to encourage more pollinators.
Resources
More Information on Pollinator Planting and Backyard Habitat