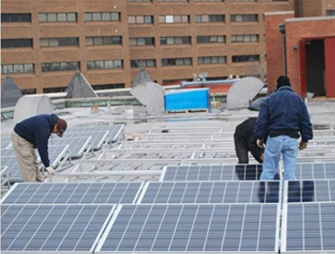 The District of Columbia is committed to reducing greenhouse gas emissions 50% below 2006 levels by 2032 and 80% by 2050. Meeting these goals will require improving the energy efficiency of District homes and buildings, switching to clean, renewable energy, and expanding sustainable transportation options. In addition to enacting policies and programs to cut emissions citywide, the District government is also committed to reducing the carbon footprint of our own operations by cutting energy use, switching to more efficient fleet vehicles, and investing in renewable energy.
The District's first climate action plan, Climate of Opportunity, provided a blueprint for District agencies to cut emissions. DOEE is currently updating the climate action plan to align it with the goals and initiatives of Sustainable DC, moveDC, and other strategic plans.
Related Content
U.S. Environmental Protection Agency's (EPA) Clean Power Plan: DOOE's comments in support of EPA's proposed rules to reduce greenhouse gas emissions from power plants (need to post/upload 111d testimony and written comments).
Additional Resources
C40 Climate Leadership Group: The District is a member of C40, a network of the world's largest cities taking action to reduce greenhouse gas emissions
DC Climate & Urban Systems Partnership: Led by the National Geographic Society, D.C. CUSP convenes government agencies, NGOs, and community leaders to collaborate on climate change initiatives.