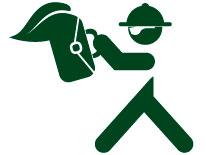 Whether you are a business owner, manager or employee, you need to understand and comply with the District's environmental regulations and evaluate the environmental impact of your operations, products and services. The DDOE staff is available to answer questions, provide assistance, and help you improve your environmental performance.
Smarter DC Challenge
Join the Smarter DC Challenge TODAY; it's a free, fun and friendly competition for District workplaces to improve the sustainability of their organization and building operations.
The annual Mayor's Environmental Excellence Awards recognize outstanding businesses and organizations for their environmental stewardship, innovative best practices, pollution prevention, and resource conservation. If you are considering applying for an award, we recommend that you track your energy consumption, water usage, recycling, and "green projects" for your facility. Read More>>
Green Energy Practices
Practices by Business Type 
Additional Information