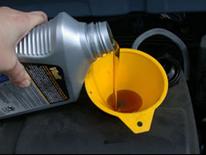 DOEE Information
Clean Water: A Guide for Auto Services
Who Generates Hazardous Waste?
Resources
New Regulations for Outdoor Repair and Storage of Vehicles*
Letter Sent to All Auto Repair Businesses on April 29, 2009*
US EPA Automotive Refinishing Partnership
Auto Body Topic Hub
CCAR - GreenLink (visit virtual shops)
The health of the Anacostia and Potomac Rivers greatly depends on the automotive industry and local environmental agencies working together to reduce the amount of automotive fluids entering the waterways.
How to Clean Automotive Spills
If waste fluids are handled (such as motor oil, oil filters, transmission fluids, etc.), check for an EPA Identification number. The EPA identification number can be obtained from DDOE.
Inspect the area where waste/used fluids are held. The area should have secondary containment system. In the District of Columbia, all used-oil generated and contained in above-ground tanks must have secondary containment.
Verify paperwork (manifests) for the proper removal of waste/used fluids from the site.
Small Spills & Drips
Wipe-up spills with rags--do not saturate the rag.
Used rags must be stored in a sealed container before transporting to a professional laundering service.
Do not use your own laundry machine to wash used rags or employee uniforms. Send used rags to a professional laundering service.
Dispose of rags properly (to a professional disposal company).
Oil Spills
Use a mop that absorbs oil ONLY (transfer used oil to a drum for recycling)
Use dry clean-up methods when cleaning outside lots, and inside of your garage. This means never hosing down your work area. When possible broom and vacuum should be the preferred method of cleanup.
Use rags to dry the surface.
Antifreeze Spills
Use a dedicated cloth mop to clean up spill.
Transfer to a waste coolant drum for recycling.
Use rags to dry the surface.

Automotive parts stored improperly can leak oil and pollutants.
Gasoline and Solvent Spills
Use an absorbent and dispose of it as hazardous waste.
Store in a drum for flammables until time of disposal.
Dispose of solvents, degreasers, and used automotive fluids properly. Large drums must be clearly labeled, capped, and free of debris. Do not allow these containers to deteriorate and repair any structural damage immediately.
Always use absorbent materials to clean fluid spills. Sand or kitty litter can be used for this purpose.  Small spills or drips can be wiped clean with rags which should be laundered through a contractor.
Drain your used oil filters prior to disposal. Keep oil filters where they are protected from the weather and will not drip.

Violation: improper storage, leaking oil
Auto Body Painting and Refinishing
Manage your inventory.
Improve paint measurement and mix only what you need.
Minimize paint transfers.
Use disposable calibrated paint gun liners.
Remove body parts from vehicles prior to painting.
Consider using waterborne paints.
Work Area Floor Cleaning
NEVER hose down your work area.
Use a mild detergent that is specially formulated to clean automotive fluids.
Dump washwater down an approved sink (contact the DC Water And Sewer Authority, WASA at (202) 612-3400, 24 hours).
NEVER pour or rinse automotive fluids into the stormdrain outside your business.
If a spill reaches or enters the storm drain, call the Homeland Security and Emergency Management Agency (EMA) at (202) 727-6161. For more information, call (202) 535-2600.
Storage
Keep used auto parts away from the elements, such as junk cars, car batteries, engines, and tires.  If stored outside, always cover with a tarp. If this is not possible, move the parts inside, or remove them from the premises. In the case of a battery acid spill, neutralize the spill with baking soda.
Never put used hazardous materials in the trash heading to the landfills.
Never bury, dump, or burn any automotive fluids.
Never let automotive fluids accumulate on your lot, whether it is paved or dirt.
Do not discharge any pollutants to public space.
       
No secondary containment around tank

Same tank now with secondary containment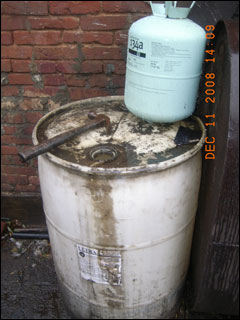 Propane tank cannot be stored on top of uncapped drum.
DID YOU KNOW?
Antifreeze has a sweet smell and taste that is attractive to children and pets, but is highly toxic.  Improperly disposed antifreeze can flow into waterways where it can kill fish and other animals. It can also seep through the soil and into the ground water.
One gallon of used motor oil can contaminate 1 million gallons of water -- a years supply of drinking water for 50 people.
It has been estimated that approximately 400 million used oil filters are disposed of each year in the United States. Assuming the average filter contains about 3 to 4 ounces of oil, this translates into over 12 million gallons of oil.