Background: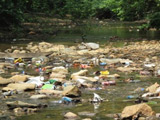 The Anacostia River Clean Up and Protection Act of 2009, commonly referred to as the District of Columbia's (District's) Bag Law, requires businesses that sell food or alcohol to charge five cents for each disposable paper or plastic bag. The law took effect January 1, 2010 and was the first of its kind in the United States. The law was passed after a trash study found that plastic bags were one the largest sources of litter in the Anacostia River. The law's ultimate goal is to reduce a common source of litter in District waterways (plastic bags) by reducing the amount of disposable bags that people use.
Bag Fee Revenues Support Projects to Protect and Restore District Water Bodies
Regulated businesses retain one cent (or two cents if it offers a rebate when customers bring their own bag), and the remaining three or four cents goes to the Anacostia River Clean Up and Protection Fund, a special purpose fund managed by the District Department of the Environment (DDOE). The moneys deposited into the fund are used to implement watershed education programs, stream restoration projects, and trash collection projects and to purchase and distribute reusable bags. As of September 2013, the Bag Law has raised over $7.4 million in bag fees.
Below are just a few of the projects that Bag Law funds have been used for:
Surveys: DDOE commissioned a series of surveys to measure the impact of the Bag Law on reducing litter and to assess the effectiveness of the law in reducing disposable bag consumption. An independent research firm, OpinionWorks, developed and conducted the surveys, in partnership with the Alice Ferguson Foundation and the Anacostia Watershed Society. The study found that both residents and businesses have significantly reduced their disposable bag use and that substantial majorities of residents and businesses support the bag fee. In addition, both residents and businesses report seeing significantly fewer plastic bags as litter throughout the District.

Trash Collection: The District has implemented several innovative design solutions for removing trash from local waterways. A total of five trash traps have been installed using funds from the Bag Law. These trash trap devices are instrumental in preventing trash and debris from reaching the main stem of the Anacostia River.

Education/Outreach: In 2011, OpinionWorks, conducted a series of focus groups and one-on-one interviews with admitted litterers, as well as a District-wide public opinion poll and interviews with 50 businesses to get at the root of littering behavior and to examine existing attitudes. The findings from this study led to the development of an anti-littering campaign for the Potomac River watershed, the Trash-Free Potomac Anti-Littering Campaign. In 2013, DDOE provided a grant to the Alice Ferguson Foundation (AFF) to conduct a roll-out of the Trash–Free Potomac Anti-Littering Campaign across the District's portion of the Anacostia watershed. AFF will be working with local businesses, community and recreation centers, schools and other District government agencies to post anti-littering materials. In addition, as part of the grant AFF will be conducting on-line behavioral surveys, trash counts and visual behavioral studies in neighborhoods in the Anacostia watershed. Through these studies, AFF will be gathering data on how much the anti-littering campaign has affected littering behavior.

Meaningful Watershed Education Experiences (MWEE): DDOE provides a "meaningful watershed education experience" (MWEE) related to a stream or the Chesapeake Bay for students in the District of Columbia Public Schools (DCPS) before high school graduation. Through a DDOE grant, the Living Classrooms of the National Capital Region (LC-NCR) will engage third, fourth and fifth grade classes in hands-on, educational experiences, linking the students to the Anacostia and Potomac River and Chesapeake Bay watersheds. Over a two-year period, LC-NCR will work with 18 classes from DC Public Schools located in Wards 7 and 8, reaching approximately 180 students.

Stream Restoration: The restoration of Nash Run, a non-tidal tributary in the Ward 7 upper Anacostia watershed will include natural channel design to assist with habitat improvement and pollutant removal from receiving waters downstream. A large trash capture device will also be installed at the head of the restored reach.

RiverSmart Homes: This program offers technical and financial assistance to homeowners that wish to control the amount of stormwater pollution leaving their properties. Homeowners in the District of Columbia are eligible to receive up to $1,200 to install a rain garden, BayScape, or permeable pavement. In addition to this grant, RiverSmart Homes offers rain barrels and shade trees.

Green Roof Subsidy Program: Green roofs hold and delay rainfall, effectively preventing rainwater from becoming stormwater and reducing combined sewer overflow events. In addition, green roofs filter air pollutants from the rainwater, save energy in buildings, and help to reduce the urban heat island effect. DDOE's Green roof rebate program provides base funding of $5 per square feet for the installation of a green roof for residents and building owners in the District. The program funds green roofs of any size, including roofs atop buildings, garages, sheds as well as other structures. To date, the program has funded several types of roofs from 200 square feet to 25,000 square feet. Applicants should file the necessary paperwork with the Anacostia Watershed Society (AWS) to be added to the queue.
Outreach Efforts
In order to ease implementation of the Bag Law, DDOE staff spent the first year after the law took effect conducting extensive outreach to District businesses and residents and to bag manufacturers and distributors. DDOE designed and distributed cash register decals and window flyers with a Skip the Bag, Save the River logo for businesses to display. DDOE outreach staff created television and radio advertisements to raise public awareness, and DDOE partnered with local businesses, including pharmacies and major supermarket chains, to distribute reusable bags to customers. DDOE also created a Skip the Bag, Save the River website (www.green.dc.gov/bags), which includes links to the law and regulations, a tip line for reporting problems, outreach materials targeted to businesses, media releases, and a Frequently Asked Questions page about the law.
In 2013, DDOE partnered with the Department of Motor Vehicles (DC DMV) to promote the District's commemorative Save the River license plate. As a result of this partnership, DC DMV service centers display a short video about the commemorative license plate to residents waiting for licensing services. For more information please view the DMV Save the River Plate video.
Inspection and Enforcement
DDOE ramped up its enforcement in December 2010, after conducting almost a full year of extensive compliance assistance and educational outreach about the law's requirements. The table below provides an overview of enforcement statistics by fiscal year.
| | | | |
| --- | --- | --- | --- |
| | Inspections | Notices of Violation | Notices of Infraction |
| FY11 | 374 | 188 | 11 |
| FY12 | 446 | 217 | 30 |
| FY13 | 587 | 235 | 37 |
| Totals | 1,427 | 640 | 78 |
DDOE inspectors check businesses for compliance with the Bag Law primarily through "secret shopping." DDOE has determined this to be an efficient and accurate way to ascertain whether a business is in compliance. Items purchased during inspections are paid for with fees collected through the Anacostia River Clean Up and Protection Fund.
In 2011, DDOE established an agreement with the DC Office of Aging (DCOA) to transfer goods purchased during Bag Law inspections to the DCOA's Senior Wellness Centers throughout the District. The Wellness Centers provide these items to senior citizens who use the facilities. As of September 30, 2013, DDOE inspectors have purchased 670 nonperishable items, worth $1,280.74, in order to check compliance with the Bag Law.