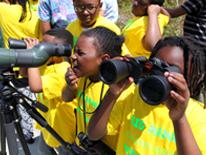 For 5th grade students:
The Overnight Meaningful Watershed Educational Experiences (OMWEE) is a free program that offers 5th graders attending District public or charter schools with a three-day, two-night overnight field study. The program engages students in hands-on lessons about local watersheds and sustainability. Students also participate in team-building activities like climbing wall, ropes course, and canoeing.
The OMWEE curriculum builds on the 5th grade science standards and incorporates scientific inquiry, the water cycle, and inheritance in living organisms, adaptation, and survival. The program includes outdoor activities and project-based experiences that collect and analyze data. In addition to the overnight experience, the program includes two classroom visits (before and after the field study).
The OMWEE program is implemented through a partnership between DOEE and the Alice Ferguson Foundation. Participating schools will visit one of the sites operated by one of the following providers:
In addition to the programming, schools will be provided with watershed education resources, such as watershed maps, water quality test kits, lesson plans, classroom demonstration tools and materials, posters, and supplementary curricula upon request.
Service Contact:
Kara Pennino: Education, Engagement and Equity Specialist