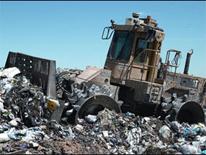 On average, Americans produce 4.6 pounds of waste each day or 1,679 pounds per year! 
Top Five Ways to Reduce Your Waste
5. Stop junk mail and magazine subscriptions.
4. Donate items such as clothing, glasses, furniture, appliances, etc.
3. Use freecycle, craigslist and similar services.
2. Purchase items with less packaging.
1. Compost food and yard waste and leave grass clippings on your lawn.
Composting at Home
If organic material is placed in a composting bin, the material eventually biodegrades and turns into soil. Composting creates conditions that speed up the natural of breaking down of organic material. Organic material (for the most part) can be defined as anything that previously grew out of the ground such as:
Vegetable and fruit wastes: rinds, cores, peels, cobs and husks, etc.
Anything made out of flour: bread, cookies, crackers, pizza crust, noodles, etc.
Grains (cooked or uncooked): rice, barley, cereal, etc.
Coffee grounds, tea bags and filters
Old spices
Outdated boxed foods from the pantry
Egg shells (considered organic and compostable even though your eggs did not grow out of the ground.)
Paper napkins and paper towels
What not to put in your compost bin:
Oils and fats
Dairy
Meat, fish and bones
Pet waste
Not everyone in the city has space for outdoor composting, but composting can be done both indoors and outdoors. There are many different types of composters that can be purchased for $100-400, but you can also make your own composter for under $50. See our Composting at Home handout [PDF] to learn how to do it yourself for less.
Once you've purchased or crafted your indoor or outdoor compost bin and have started to add food or yard waste, be sure to monitor it. No one wants a stinky compost bin, so be sure to monitor moisture, aeration, and drainage (tips on troubleshooting can be found in the Composting at Home handout [PDF]).
The District recommends using metal outdoor compost bins with a tight fitting lid to prevent rats from chewing through and entering containers.
Benefits of composting
By composting in your home or backyard, you are generating less waste that would otherwise be driven 150 miles before being thrown in a landfill. Landfills (which are not aerated like your compost bin) also produce methane, a greenhouse gas that is 25 times more potent than carbon dioxide. Not only are you reducing your waste and your carbon footprint, but you are turning your waste into black gold that can be used in your potted plants, shared with your neighbors or to given to your local community garden.
Cut it and leave it!
Instead of cutting, raking, bagging and tossing your grass clippings, try leaving them on your lawn or spread them around your garden and flower beds. Placing grass clippings out with your garbage is a waste of money, landfill space and nutrients.
Grass clippings provide a natural and healthy fertilizer for a growing lawn. Studies have shown that leaving grass clipping reduces the need for fertilizers and mowing. Save time and money and leave your grass clippings on your lawn.
Make your lawn truly organic by eliminating chemical fertilizers, herbicides and pesticides. Chemical pesticides can pose hazards to humans, pets, and aquatic life and fertilizers can cause algae growth and water quality issues. If you own a small yard, also consider using a gasless push mower.