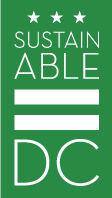 UPDATE: The 2017 Sustainable DC Progress Report (.pdf also attached below) highlights key projects and initiatives, and summarizes basic progress on the Plan.
The Fourth Year Progress Report provides detailed explanation of the progress on all 143 actions in the Sustainable DC Plan. Read more at sustainabledc.org.
Sustainability
Sustainability means meeting our economic, social, and environmental needs while ensuring that future generations will also be able to meet their own needs.
Economically, sustainability means growing our economy and ensuring that all residents have access to jobs; socially, it means ensuring fairness and providing equal opportunities for our entire population. For the health of our residents and the environment, we must protect the quality of our air and water and enhance our natural resources. A sustainable future will ensure equity and prosperity for every District resident.
The Urban Sustainability Administration
The Urban Sustainability Administration's mission is to develop innovative policies and programs to address sustainability, green building, green infrastructure, climate change, waste management and other cross-cutting environmental issues and increase the long-term environmental sustainability of the District.
The Sustainable DC Plan is the District's strategy to make the District the healthiest, greenest, and most livable city in the nation by 2032. Led by the Urban Sustainability Administration at DOEE in conjunction with the Office of Planning, Sustainable DC is a collaborative effort involving the input and participation of thousands of members of the District community.
Sustainable DC Awards
The annual Sustainability Awards recognize outstanding businesses and organizations for their environmental stewardship, innovative best practices, pollution prevention, and resource conservation. If you are considering applying for an award, we recommend that you track the energy consumption, water usage, recycling, and "green projects" for your facility. Read More>>
Sustainability includes: