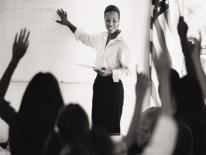 For teachers of students of all ages, pre-K through 12th grade.
DOEE has established an environmental education resources center to act as a "one-stop-shop" for teachers and other environmental educators seeking high quality environmental education materials. Educators may browse, borrow materials for use in the classroom, and take advantage of "give-away" items. Teachers can utilize up-to-date resource materials that promote interdisciplinary learning, reinforce science, math and reading skills, and adhere to the national education standards.
Available resources on loan to environmental educators:
NEW! DOEE's watershed trailer is a large-scale, interactive watershed model that teachers can use to show the principles of stream flow, bank erosion, and proper stewardship of our local waterways. Please call for information and scheduling.
Audio-Visual Materials
Lab Equipment
Curricula
Maps
Games
Models
Gardening tools
Posters

DC Environmental Education Consortium (DCEEC)
A network of environmental and conservation educators that increases the capacity to provide meaningful environmental education for District residents. DOEE is a charter member of the organization and is actively involved in its efforts.
Service Contact:
Trinh Doan, Environmental Protection Specialist