Applications for positions with GZEP 2016 have closed. Applications for GZEP 2017 will open next spring.
Are you a high school senior, college student, recent graduate, or young adult interested in a short-term or summer job working with youth and the environment?
If so, next Spring, you can apply to be a Team Leader, Site Manager, Ward Manager, Warehouse & Beautification Project Manager, Payroll & Project Assistant, or Program Assistant for DOEE's Green Zone Environmental Program (GZEP).
Every summer, GZEP partners with the Marion Barry Summer Youth Employment Program to provide over 300 youth and young adults, ages 14 to 24, with an opportunity to learn about energy and environmental issues, complete community-based environmental work projects such as rain gardens and storm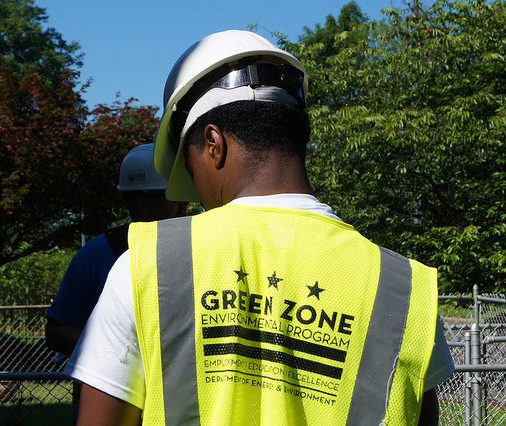 drain markers, and prepare for careers. Being a GZEP staff member is a great opportunity to work with District youth and gain valuable leadership experience.
Highlights from 2016:
SOLAR
Awarded the 2016 SYEP Visionary Program Award from DOES.
15 young adults were trained to install solar panels at McKinley Tech. The group participated in a press conference with Mayor Bowser in front of one of the homes they installed panels and three participants earned full time jobs with GRID Alternatives Mid-Atlantic. Watch a video and blog summarizing the experience.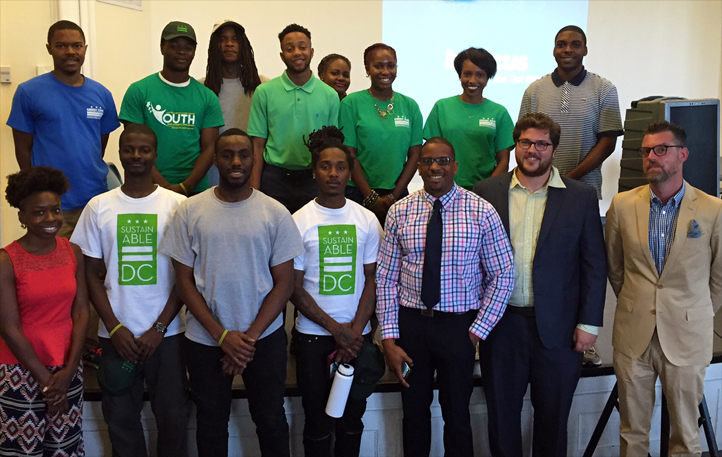 ENVIRONMENT
GZEP participants installed 3 rain gardens at local churches, near Ballou, Kramer and LaSalle.
GZEP participants helped 70 seniors clean and landscape their homes and gardens.
Conducted 2 Illegal Dumping Site Clean-ups
Our HD Woodson site worked with UDC planting and maintaining the East Capitol Urban Farm.
They cleared about 13,000 square feet of bush honey suckle on Kingman Island in order to create new trail and make new picnic areas to aid with education programming resources, and improve the experience for park visitors.
EDUCATION
The youth and young adults participated in 40 field trips to tour the Anacostia River, DC Water, Alice Ferguson Foundation and the Aquatic Resources Education center
12 SYEP participants were trained on OSHA 10 and CPR.
Three GZEP worksites were introduced to Electric Vehicle Training