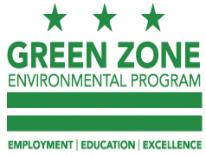 Are you a high school senior, college student, recent graduate, or young adult interested in a short-term or summer job working with youth and the environment?
If so, next spring you can apply to be a team leader, site manager, ward manager, warehouse supervisor, or administrative support specialist for DOEE's Green Zone Environmental Program (GZEP).
Every summer, GZEP partners with the Marion Barry Summer Youth Employment Program to provide over 300 youth and young adults, ages 14 to 24, with an opportunity to learn about the energy environment issues facing the District, complete community-based environmental work projects such as rain gardens and storm drain markers, and prepare for careers. Being a GZEP staff member is a great opportunity to work with young people, get leadership experience and build your resume.
| | | | | |
| --- | --- | --- | --- | --- |
| Position | Description | Minimum Commitment | Paid? | Apply - Details |
| Program Analyst | Work with GZEP Program Coordinator to implement and plan GZEP programming and coordinate with GZEP partner organizations. | 40 hr per week | Based on exp. | Closed |
| Ward Manager | Oversee site managers and the day-to-day operations of site. Work with central office to implement GZEP. | 40 hrs per week | $15/ hour | Closed |
| Administrative Support and Payroll | Work with Central Office to support GZEP's administrative needs and record and submit weekly payroll. | 35 hrs per week | $13-15/ hour | Closed |
| Warehouse Manager | Coordinate with Ward and Site Managers and Central Office staff to deliver supplies and support day-to-day logistics. | 35 hrs per week | $13/ hour | Closed |
| Site Manager | Implement daily schedule and provide day-to-day supervision for team leaders and up to 50 youth ages 14-24. | 40 hrs per week | $13/ hour | Closed |
| Team Leader | Work with a team, provide day-to-day supervision of youth ages 14-24. | 35 hrs per week | $11/ hour | Closed |
Spotlight: Kevin now works as a contractor in DOEE's Central Records Office, but he got his start in GZEP!
"As Procurement/Warehouse/Ward Manager, I was able to travel throughout the wards and witness some of our most promising youth work on projects that would make a difference in the lives of those who reside in the District."
More about GZEP
The Green Zone Environmental Program (GZEP) is one of the largest green jobs training programs for youth in the nation. The program, which operates under the auspices of the Department of Energy & Environment (DOEE), introduces District youth, age 14 to 24, to the green industry, exposing them to numerous exciting careers through workshops and hands on training in the environment. Additionally, program participants will develop basic skills necessary to succeed in the workplace. GZEP youth workers work on projects that have immeasurable sustainability impact in the District.
- Green Zone Facebook Page
- Green Zone Team On YouTube






Application Form for GZEP 2016 is not yet available.
For More Information
District Department of the Environment
Office of Human Resources
Green Zone Environmental Program (GZEP)
1200 First Street NE, 5th Floor
Washington, DC 20002
(202) 535-2600 or (202) 481-3843 | green.zone@dc.gov