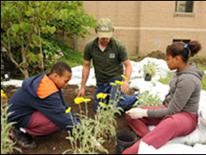 Since 2003, DOEE Watershed Protection Division has led the effort to provide District students with Meaningful Watershed Educational Experiences (MWEEs). MWEEs are multi-day programs that teach students about their local watersheds and the Chesapeake Bay through classroom lessons, field experiences, and reflection activities.
MWEES:
Are investigative, or project-oriented
Involve Preparation, Action, and Reflection
Are Common Core and NGSS-aligned
Reveal the watershed as a system
Can be sustained throughout the school year
Conducting MWEEs in the District
Recognizing the value of hands-on watershed education, the Mayor of the District and the governors of the Chesapeake Bay states signed the Chesapeake Bay 2000 Agreement to provide meaningful watershed experiences for every student in the Chesapeake Bay watershed before graduation from high school.
DOEE's current MWEE initiatives are the following:
Trash-Focused Meaningful Watershed Educational Experiences
Want to learn more?
For more information on this program, please contact P. Trinh Doan.
Help us keep track of MWEE's happening in the District!
If you or your school and/or organization has implemented a MWEE, please fill out and return the MWEE Classroom and Field Experience Agency Report Form [PDF].