Greenhouse Gas Inventories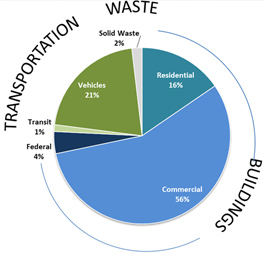 DDOE regularly tracks the District's greenhouse gas emissions in order to measure our progress towards reducing emissions 50% by 2032 and 80% by 2050. Greenhouse gas inventories identify the major sources of greenhouse gasses and measure how much they pollute. Major sources include energy used by homes and buildings, transportation, and solid waste. We track emissions across the District, as well as from our own government operations.
The first District greenhouse gas inventory was completed in 2006 and updated in 2011. During that time emissions fell 12.5% citywide and 23.5% from District government operations – on pace to meet our goals. The next inventory, measuring emissions from 2012 and 2013, will be completed in early 2015.
Additional Resources