CoStar Group
2013 Mayor's Sustainability Award Winner
---
CoStar Group has a deep and long-standing commitment to sustainability, and to creating world class, environmentally conscious workspaces throughout the CoStar network. In addition to its newly Platinum-Certified space in Washington, CoStar's 25,000-square-foot Boston office was awarded LEED Platinum CI in 2010, and its 27,000-square-foot office in Atlanta and 29,000-square-foot office in San Diego are pending LEED Platinum CI certification. Currently, CoStar's offices in Chicago, Dallas, Houston, Boston, Atlanta and Washington, DC, are maintained in LEED Gold-Certified buildings. CoStar is also an ENERGY STAR™ Partner, and was honored in 2009 with an Excellence in ENERGY STAR Promotion Award for incorporating the U.S. Green Building Council's list of LEED-Certified and Registered buildings, ENERGY STAR™-Certified buildings and BREEAM-assessed properties into its database, enabling CoStar clients in the U.S. and U.K. to perform specific queries for green buildings and identify buildings with these designations in their respective markets.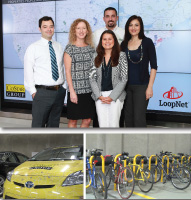 Anthony Guma, LEED AP, Assoc. AIA – Director, Building Rating Systems;
Lisa Ruggles – Senior Director, Field Research;
Kathy Watson – Interior Designer/Project Manager; and
Nadia O'Dea – National Facilities Manager.
Back: David Ferrara, LEED AP – Senior Chief Engineer, Lincoln Property Company.
CoStar's commitment to sustainability extends well beyond office space. In 2010, the Company added the Chevrolet Volt to its fleet of field research vehicles, further reducing CoStar's carbon output while enhancing its extensive field research capabilities. In addition, CoStar sponsors the Journal of Sustainable Real Estate (www.JOSRE.org), an academic journal and website that promotes research and awareness of sustainability issues in the commercial real estate industry.
The Company also provides robust transit subsidies to encourage employees to take advantage of public transportation options, including Metro, reducing automobile use in and around the metro areas surrounding many of its offices. Approximately 85% of our staff uses public transportation each day. Based on a calculator provided by Commuter Connections, we've eliminated about 4.8 million vehicle miles each year. Our DC Headquarters was designed and built with innovative approaches that enhance sustainability, conservation, accessibility, and a quality work environment. CoStar's efforts to create and maintain a sustainable workplace and culture have been recognized with several awards, including the 2012 AWE Workplace Excellence Award, 2012 Health and Wellness Trailblazer Award, the 2012 Commuter Connections Employer Recognition Award, and the 2013 CoreNet Award of Excellence for Sustainability.