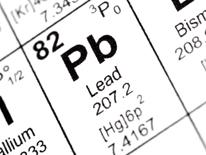 What is lead?
Lead is a heavy, low melting, bluish-gray metal that occurs naturally in the Earth's crust. However, it is rarely found naturally as a metal. It is usually found combined with two or more other elements to form lead compounds.
Over the years, lead has been mixed with gasoline and with paint, used as solder for cans and for copper pipes, as piping for drinking water, blended with vinyl and with brass, employed as protective shielding against radiation and in the manufacture of batteries and computer components.
Why is lead a problem?
For thousands of years, lead has proven to be a very useful substance. For nearly as long, we have also known that exposure to lead causes serious adverse health effects. Lead turns up in our yards, shows up in our homes, and ends up in our landfills. It is a powerful neurotoxin, which means exposure can damage the brain. It can also injure other soft tissues and organs, can interfere with the formation of blood, and exposure to enough lead can even kill. Both children and adults are vulnerable to lead's health effects.
- Lead and Your Health          - Lead-Safe and Healthy Homes
What is the District Government doing about it?
What can I do about it?
Who can I hire?
The following list consists of the individuals and business entities certified by DOEE to conduct lead-based paint activities in the District of Columbia. DOEE does not endorse or refer companies or individuals. Their presence on this list does not represent a statement about the quality of their work or customer service.
If you are looking for someone who is trained in lead-safe work practices and able to perform non-abatement activities such as "interim controls," the EPA provides a list of DC-based certified firms that may be able to meet your needs.  If you choose to hire one of these firms to conduct non-abatement activities involving the elimination of lead-based paint hazards in your home or child-occupied facility, please be aware that the person doing the work must have documentation that they were trained in lead-safe work practices, such as documentation proving their Certified Renovator status. Also, please remember that such documentation is not enough to qualify these individuals to conduct abatement activities. Only DOEE-certified abatement personnel are qualified and eligible to conduct lead abatement activities in the District of Columbia. Read More>>
Where can I get more information?
Questions? Submit your questions through the Lead Questionnaire Form.
DOEE office hours for processing lead certification applications will be from 8:30 AM to 4:00 PM, Monday through Thursday, and 8:30 AM to 3:00 PM on Fridays.