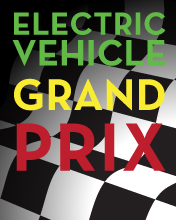 The DC Electric Vehicle Grand Prix is a hands-on educational opportunity for high schools in Washington DC, Maryland, and Virginia. 2016 will be the fourth year of the competition.
For the competition, student teams build and race battery powered electric cars. The project also helps build project management skills while working in a team environment. Other aspects of the event involve marketing, PR and fundraising as well as logistics planning in preparation for the races. Participation in the DC Electric Vehicle Grand Prix serves as an excellent venue for young men and women in high schools to better prepare them for their college careers in science and engineering. This year, we invite more high schools to participate in the electric vehicle grand prix.
For more information visit Washington DC Electric Vehicle Grand Prix.