The U.S. Department of Energy's State Energy Program (SEP) provides funding and technical assistance to the District of Columbia to enhance energy security, advance state-led energy initiatives, and maximize the benefits of decreasing energy waste. SEP provides funding for educational opportunities and services to the community that prepare the District residents for the upcoming green economy. Explore below for more information!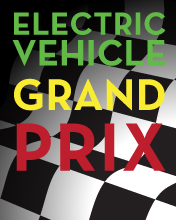 Electric Vehicle Grand Prix (EVGP)
In support of Sustainable DC and the Environmental Literacy Plan, the EVGP aims to teach District children about sustainability concepts. DOEE in partnership with Global Energy Education Environment hosts an annual Electric Vehicle Grand Prix for High School Students. The DC Electric Vehicle Grand Prix is a hands-on educational opportunity for high schools in Washington DC, Maryland, and Virginia.
For the competition, student teams build and race battery powered electric cars. The project also helps build project management skills while working in a team environment. Other aspects of the event involve marketing, PR and fundraising as well as logistics planning in preparation for the races. Participation in the DC Electric Vehicle Grand Prix serves as an excellent venue for young men and women in high schools to better prepare them for their college careers in science and engineering. This year, we invite more high schools to participate in the electric vehicle grand prix.
For more information visit Washington DC Electric Vehicle Grand Prix.
Pop-up Bike Shops
DC SEP's pop-up bike shops are an effort for DC residents, specifically east of the Anacostia, to get their bikes fixed so they can start riding! Through research, SEP staff found out that there is a shortage in bike shops east of the Anacostia River. In efforts to assist with this local shortage, the DOEE formed a partnership with "Gearin up Bicycles" to launch at least 3 bike shops per year for the residents East of the Anacostia River. Learn More >>
Energy Education
Request a school assembly, webinar, or presentation materials about energy and resource conservation and find out about DOEE's education program for schools k-12. Learn More >>
Comming Soon:
Electronification Transportation Roadmap
Net-Zero Tiny Homes
Transportation Electrification Roadmap