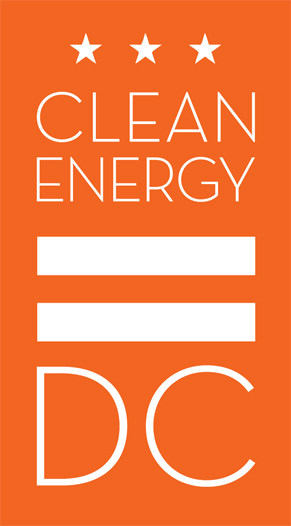 Clean Energy DC is the District of Columbia's energy and climate action plan. It explains how the District will use forward-looking energy policies, while also encouraging innovation, efficiency, and resiliency. Clean Energy DC re-imagines what a 21st century energy system could be but is also pragmatic and focused on achieving tangible goals.
Clean Energy DC identifies what actions need to be taken between now and 2032 in our buildings, our energy infrastructure, and our transportation system to meet the District's ambitious GHG reduction targets. It lists 57 actions that we can do today, next steps for each, and what we will need to do in the future.
The plan aims to reduce emissions by 56% in 2032 compared to the baseline year of 2006 through the implementation of the 57 action items.
Clean Energy DC Plan & Summary Documents:
History of the Plan:
The initial Draft Clean Energy DC Plan was published in November 2016. Over the course of 2017, DOEE engaged with hundreds of DC residents at over two dozen events in all eight wards of the city. From October 2017 through August 2018,
DOEE worked to update the Clean Energy DC plan in response to public feedback. As part of the plan development, DOEE has also produced an interactive online tool for you to better understand the District's current climate and energy footprint, the major actions proposed in Clean Energy DC and their impact, and the potential impacts of over different scenarios for our energy future.
The Clean Energy DC plan was finalized on August 27, 2018.The following year, the Mayor signed the CEDC Omnibus Amendment Act of 2018.
Clean Energy DC Act
To advance the goals of the plan, the District passed an ambitious law, the Clean Energy DC Omnibus Amendment Act of 2018, which codifies several key initiatives in the sectors of renewable energy, building energy use and transportation. Rearn more >>
Progress Reports
In 2020, DOEE published its first CEDC Progress Report. The report highlights the significant progress the city has made in implementing CEDC initiatives, and tracks the status of all 57 actions specified in the Plan.
Register for the Clean Energy DC Newsletter
To stay up-to-date on the latest Clean Energy DC news, sign up for the CEDC newsletter >>
Clean Energy DC Webinars
Webinar Recordings: 2020-2021 Green Building Professional Seminar Series
Notice of Request for Applicants - Clean Energy DC 2.0
DOEE seeks an eligible entity to provide DC residents, businesses, and government a clear set of actions they can take to reduce energy use and greenhouse gas emissions, and increase awareness on topics of energy, energy efficiency, and climate change by updating the Clean Energy DC Plan (CEDC 2.0). The deadline for application submissions is March 18, 2022. Read More>>