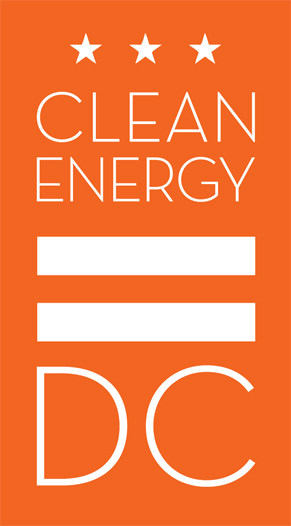 Clean Energy DC is the District of Columbia's new climate and energy plan. It explains how the District will use forward-looking energy policies to achieve its greenhouse gas (GHG) emissions targets for 2032, while also encouraging innovation, efficiency, and resiliency. Clean Energy DC re-imagines what a 21st century energy system could be, but is also pragmatic and focused on achieving tangible goals. Clean Energy DC clearly identifies what actions need to be taken between now and 2032 in our buildings, our energy infrastructure, and our transportation system to meet the District's ambitious GHG reduction targets. It lists 55 actions that we as a community can do today, next steps for each, and what we will need to do in the future.
Clean Energy DC is a plan, and a vision of what the District could be. It is a bold idea of the District as a leader in fighting climate change, one that requires the support and engagement of District residents and businesses for it to be successful. Re-imagining the District's energy system is a big task. That is why this plan is just the beginning. Many of the actions and strategies will require further study. The people and businesses who will be most affected by these actions will have an active and important role in designing the next steps. Clean Energy DC is the place where all of this work starts to come together.
The initial version of Clean Energy DC was peer-reviewed in September 2016, and after revisions, published as a draft plan in November 2016. You can download the draft report and related documents below. DOEE has also produced an interactive online tool for you to better understand the District's current climate and energy footprint, the major actions proposed in Clean Energy DC and their impact, and the potential impacts of over different scenarios for our energy future. You can access the tool here.
Over the course of 2017, DOEE engaged with hundreds of DC residents at over two dozen events in all eight wards of the city. From October 2017 through January 2018, DOEE will be working to update the Clean Energy DC plan in response to public feedback. Clean Energy DC is intended to serve as a living document, and will be updated and modified regularly and as needed thereafter.