Next Date:
Saturday, April 28, 2018 -
Location:
Anacostia Park outside of the Aquatic Resources Education Center – 1900 Anacostia Drive SE
Details:
Angling Instruction for Youth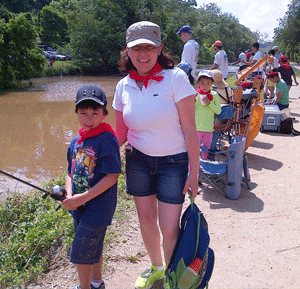 The Family & Youth Casting Call is an annual free event sponsored each spring by DOEE's Fisheries & Wildlife Division. DOEE provides fishing instruction, environmental education activities, and community resources to youth aged 15 and under and their families. Families can bring their own fishing equipment or youth may use the spin casting equipment provided by DOEE. DOEE also supplies bait and organizes volunteer fishing instructors to help youth participants learn the basics of catch-and-release fishing in a fun, supportive setting.
This year's event will take place along the banks of the Anacostia River in Anacostia Park, just outside of the Aquatic Resources Education Center and adjacent to the Skating Pavilion (see map). Additional directions are available on the National Park Service Anacostia Park website.
Additional Environmental Education Activities
The event also includes environmental education stations hosted by DOEE and local partnering organizations. Activities include watershed and pollution awareness games, fly casting, local boating and fishing club and camp information, and a variety of other hands-on and informative features. Every year the event attracts new partners that share our mission to connect youth and their families to nature through angling instruction and environmental education.

Thank you to our 2017 partners! Alice Ferguson Foundation, ArtReach at THEARC, City Wildlife, DC Science Booster Club, LL Bean, Montgomery County (Maryland) Department of Environmental Protection, National Park Service, National Park Trust, NatureBridge, PBS Kids Nature Cat, Tinkergarten, Trout Unlimited-National Capital Chapter, U.S. Fish & Wildlife Service, and U.S. Coast Guard Auxiliary.
Registration
Registration is strongly recommended! Reservations hold fishing equipment for your child (aged 15 and younger) for a one hour period.
Learn more about licensing requirements and fishing in the District. Licenses can be purchased online at enode.dc.gov/epermit.