<< Back to Clean Water Construction Grant Program main page
For a full picture of the benefits and requirements of a partnership with DOEE's Clean Water Construction (CWC) Program, browse the home page and supporting pages designed for applicants, contracting officers, and contractors.
Funding Transfer
Annually, the District CWC allotment becomes available for use in the first quarter of the new fiscal year (October 1 – December 31). Funding transfers to award recipients are executed by means of a Memorandum of Understanding (MOU) with District agencies and a subaward agreement with nongovernmental organizations.
Start of Billable Work
Billable work may commence upon execution of the MOU or subaward agreement. If the award recipient is providing local match, those funds may start to be spent on the date that DOEE receives the CWC award, even if the MOU or grant award transferring CWC funds is not finalized. DOEE typically receives the CWC award between July and September of the applicable grant year.
Contracting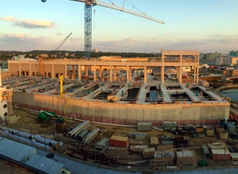 All contracts that produce eligible expenditures to be billed to the CWC grant or associated local match must be solicited and executed in compliance with federal requirements for contracting. When beginning a contract solicitation, use the CWC webpage "Resources for Contracting Officers" to ensure the contract will be approvable.
Permitting
CWC-funded projects are subject to all required federal and local permits. As part of the local permitting process, project designs must be uploaded to DOEE's Stormwater Database for review and approval by DOEE's Regulatory Review Division. If the entire project is voluntary, it's entered into the Stormwater Database as an application for Stormwater Retention Credits.
Invoices
Invoices for completed project work must be approved by DOEE before they are paid by the award recipient. DOEE is dedicated to prompt review and provides an approval or request for additional information, if needed, within three business days of receipt.
Subcontractor Reporting Requirements
Awardees must require detail subcontractor utilization on all invoices submitted for CWC grant funding and its association match. Reported information must include the total amount paid to each subcontractor for work on the grant project during the invoice's period of performance, if the subcontractor is a registered Disadvantaged Business Enterprise (DBE), and if so, whether their DBE status is a Minority Business Enterprise (MBE) or a Woman-owned Business Enterprise (WBE).
Quarterly Reports
In addition to maintaining communication with DOEE about a project's scope, milestones or roadblocks, award recipients are required to submit brief but comprehensive quarterly reports by January 15, April 15, July 15, and October 15 to report on work completed in the previous quarter. An example reporting template is available for download below.