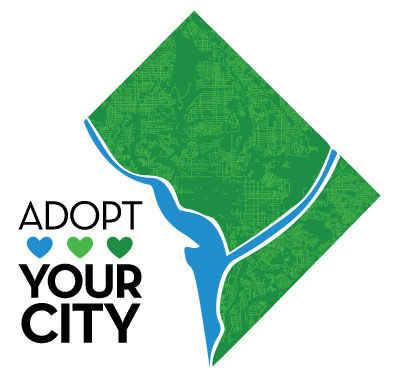 ---
Adopt-A-Park is part of a larger Adopt-Your-District campaign encouraging District residents to help keep their neighborhoods beautiful and trash free. Another programs includes Adopt-A-Block.
---
The Adopt-A-Park program is for District residents interested in keeping a neighborhood park safe and clean for the community to enjoy. By picking up litter and other waste blown, washed or illegally dumped into local parks, you are also preventing trash from polluting streams, rivers and oceans, endangering wildlife along the way.
Who should volunteer?
Any District resident, community group, association, corporation, or governmental agency interested in improving a neighborhood park through routine litter pickups and other beautification projects.
Step 1: Determine what agency owns the park in question
Because parks in the District can either be locally owned by the District's Department of Parks and Recreation (DPR) or federally owned by the National Park Service (NPS), it's important to first figure out who owns the park.
Tips for finding park ownership:
If you are unsure who owns the park, check for signage in the park.
Google search the name of the park.
Parks owned by NPS can be found on the NPS website. You can also use this interactive map.
Many parks owned by DPR may be found on the DPR website.
Step 2: Reach out to the agency to inquire about the park's adoption status
If the park is owned by DPR, your contact will be Katie Rehwaldt, [email protected].
DPR requires Adopt-A-Park volunteers to:
Regularly engage in litter pickups in your adopted park. At a minimum, quarterly clean ups are required. Groups may organize more frequent cleanups if desired.
Report needed repairs, safety concerns, and other activities (like illegal dumping) through the proper channels.
Report data required by the property owner. For example, all volunteers must regularly report volunteer hours at cleanup events.
Step 3: Determine next steps for adoption
If the park is already adopted, ask the agency if they can connect you to the host organization. Although you may not be allowed to adopt the park, connecting with the host organization may still be a great way to volunteer and help support the green space you love.
If the park is not already adopted, ask the agency what the next steps are to formally adopt the park. In some instances, such as parks owned by the National Park Service, individuals may not be able to formally adopt the park. In that case, there still may be volunteer opportunities and/or Friends Groups that help to take care of the park. Inquire about the various opportunities available to you to help support the park.