Last Date:
Location:
Wilson High School 3950 Chesapeake St. NW
Details: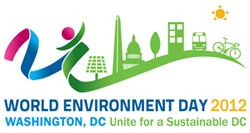 Why should you attend the World Environment Day Fair and Expo?
It's Free
Live Music
Green Catering
Recycled Art
Kids' Slide (Via Fire Department)
Blood Pressure and Health Exams
Firetruck and Street Sweeper
Green Living
Solar Solutions
Smart Cars
LIVE Falcons & Hawks (Via Earth's Conservation Corps)
…Much, Much More!
Don't miss out! Bring the family and join us as we celebrate Green Living and a Sustainable Future for DC!