<< Back to Climate Adaptation and Preparedness main page
What are Community Resilience Hubs and how will the help the District prepare for climate change?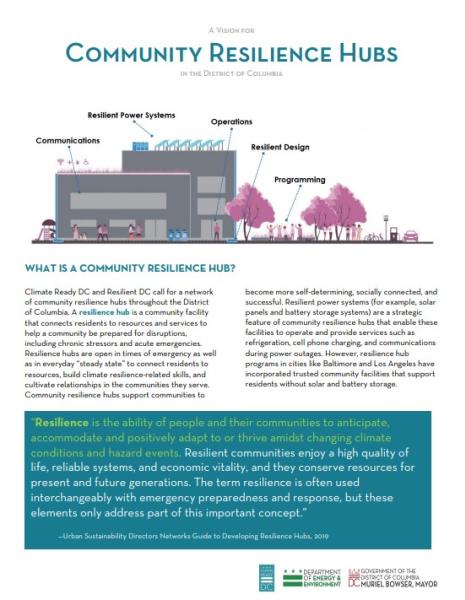 Climate Ready DC and Resilient DC call for the District Government to create Community Resilience Hubs. Community Resilience Hubs are public-serving facilities that provide information and services to build resilient communities before, during and after emergency events. As climate change brings more flooding, heat waves and severe storms, Community Resilience Hubs will complement our existing emergency response services and serve District communities year-round by promoting health, providing meeting spaces, educating the community about risks and emergency preparedness and supporting workforce development.
Resilient power systems (like solar panels connected to a rechargeable battery) are a critical feature of Community Resilience Hubs since these facilities will be prepared to operate during outages and provide services such as refrigeration, cell phone charging and communications. However, resilience hubs are open in "blue skies/steady state" times as well, to connect residents to resources, build climate resilience-related skills, and cultivate relationships in the communities they serve. Programs in cities like Baltimore and Los Angeles have incorporated trusted community facilities that support residents without solar and battery storage.
Towards a Resilience Hub Pilot
Beginning in 2017, the District began meeting with community members from the neighborhoods surrounding the Watts Branch tributary in Far Northeast Ward 7 to address climate resilience. This geographic focus area was chosen because the Climate Ready DC plan found that these neighborhoods face high risk from climate change. In 2018, these community members coalesced around three high priority climate initiatives: neighborhood-scale resilience hubs; a workforce development program for the resilience economy; and an expanded workforce program for non-college bound youth.
This same group of community members expressed interest in continuing to meet with District Government staff to create a more concrete vision for Ward 7 Community Resilience Hubs. After monthly meetings in 2019 and 2020, the group outlined their recommendations for Ward 7 hubs, including potential sites and high priority services that they should offer. The group continues to meet to help implement the vision for a Community Resilience Hub pilot in Ward 7.