<< Back to Green pathways main page
The River Corps Program engages District residents, ages 18–24, through classroom education and field-based experiences to gain technical skills needed to install, inspect, and maintain Green Infrastructure, and learn critical skills to secure employment.
River Corps participants work on watershed protection activities involving the maintenance and inspection of recently completed stream restoration and green infrastructure (GI) projects. These projects provide trainees entry-level skills in the growing green economy and education in GI. This program is implemented by a grantee.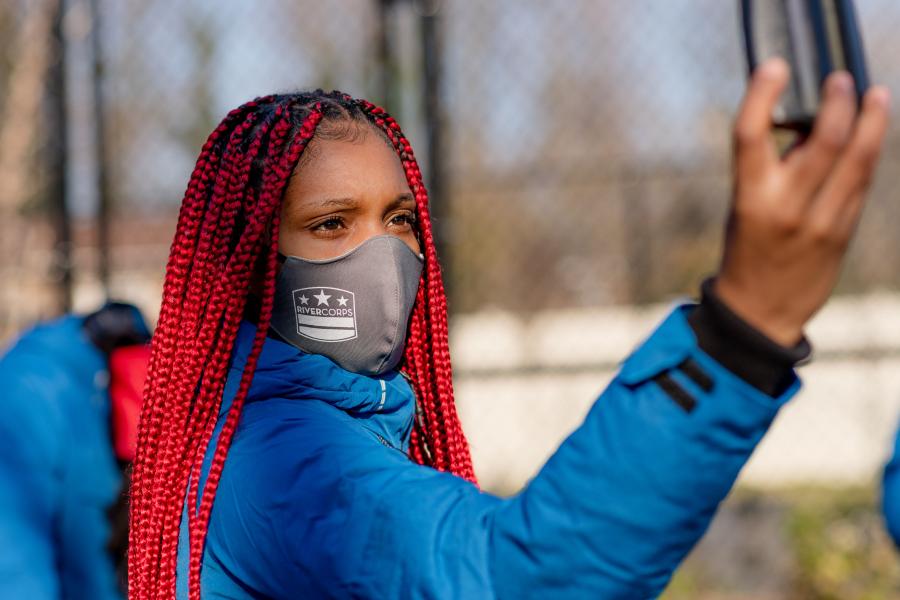 Program participants gain experience in the technical skills needed to install, inspect, and maintain GI, and learn the soft skills to seek, find, secure, and keep long-term employment. The Program provides industry-relevant certifications, OSHA 10-hour Construction Training and CPR training, to program participants.
Program activities include the following all located in the District of Columbia:
Rain garden/bioretention maintenance of up to 75 rain garden/bioretention sites

Plant up to one acre of native herbaceous plants and shrubs along streams

Removal of invasive plant species in 5 acres of parkland near streams or rivers

Removal of 500 pounds of litter along up to 11 streams and/or designated trash hot spots
Trainees are paid a bi-weekly stipend of $650, average of 25 hours/week, with opportunities for additional incentives during a 5-month duration. Recruitment for the next cohort will begin shortly!
To learn more visit layc-dc.org/river-corps
Anyone interested in applying to River Corps must complete the River Corp Member Application attached below. Details can be found on the RC Fall 2021 Flyer.