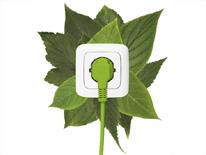 Investing in energy efficiency measures and incorporating energy conservation within your business not only helps our environment, but also your bottom line.
By making your business more efficient, you can avoid unnecessary energy use, save money, and reduce your environmental footprint. Explore the services and programs available to help make your business a more energy efficient operation!
Financing
DC Green Bank - The DC Green Bank is capitalized with limited public funds to attract private capital investment, which are then used to offer loans, leases, credit enhancements, and other financing services to close funding gaps for energy focused retrofits, clean energy installation, and sustainable development projects.
Property Assessed Clean Energy (DC PACE) - DC PACE provides affordable, long-term financing that will help District property owners implement energy efficiency improvements.
Incentives and Rebate Programs
The DC Sustainable Energy Utility (DCSEU): The DCSEU provides rebates and incentives to make local businesses and buildings more energy efficient.
Commercial Green Incentives: DOEE offers multiple ways to green your commercial property and make your business more sustainable. We can help you save money and the environment.
Resources and Programs