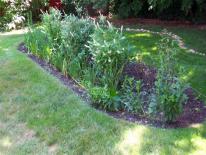 Rain Gardens
A rain garden is a landscaped area strategically placed and connected to a downspout to collect and absorb stormwater from your rooftop. Connecting the downspout to the rain garden directs stormwater away your home's foundation and holds it there until it can naturally infiltrate into the ground. The rain garden dips slightly into the ground and has soil engineered to increase infiltration. In addition to improving drainage, rain gardens also help keep polluted runoff out of local streams.
How to Have a Rain Garden
Rain gardens are designed to be site specific. They vary in size and can fit into many shapes and spaces. They can be customized to meet individual site characteristics, factoring in topography, soils, drainage patterns, and sun exposure. The standard rain garden size RiverSmart Homes install is approximately 50 square feet.
Benefits of Rain Gardens to the Homeowner
Rain gardens require little maintenance once the plants are well established, and they are a beautiful addition to any property. Furthermore, rain gardens:
Minimize the need for mowing, pesticides, pruning, irrigation and fertilization
Require minimal watering once they are fully established
Cost less to maintain than conventional landscapes stabilize soils and prevent erosion
Stabilize soils and prevent erosion
Can be creative and fun, designed with plants of your particular choice.
Benefits of Rain Gardens to the District
The District is promoting rain gardens because they manage stormwater on-site by intercepting and filtering pollutants such as fertilizers, pesticides, oil, and other automobile fluids. These pollutants often wash off of impervious surfaces such as roofs, driveways, turf, roads and parking lots. In addition, rain gardens:
Increase the amount of water filtering into the ground, which recharges local and regional ground water
Help to protect communities from flooding and drainage problems; and
Provide valuable habitat for local birds, butterflies and many beneficial insects.
Want to have a rain garden installed in your yard? RiverSmart Homes can help.
DOEE's RiverSmart Homes program offers incentives to homeowners interested in installing rain gardens on their properties and reducing stormwater pollution. The standard RiverSmart Homes rain garden size is approximately 50 square feet.
Rain Garden Rebate Program
DOEE also offers rebates for homeowners who treat runoff from additional impervious surfaces with a rain garden through its Rain garden rebate program. Rebates are issued as a direct reimbursement to homeowners at a rate of $3.00 per square foot treated. The calculation for a rain garden rebate is based on the square footage of impervious area that will be treated as a result of the project, also called treatment area. The treatment area is determined by combining the project area with impervious areas that are directly draining into the project (this may include rooftops, concrete, or asphalt). The minimum square footage that must be treated is 400 square feet, which would provide a $1,200 rebate. The maximum rebate is $2,200. For more information visit the Rain garden rebate program page.
Rain Garden Maintenance
Rain garden projects need to be cared for, especially during the first two years. The RiverSmart Maintenance Assistance Program (RSMAP) assists property owners with the maintenance of their installed RiverSmart rain gardens and BayScapes. 
The program offers free advice from the RSMAP team in three simple steps:
First, submit a question through this link your maintenance questions. Please provide as much detail as possible regarding the issue with which you would like help, and include the original plant installation plan if you have it.
Second, a RSMAP team member will respond to your inquiry within 3 business days. For  more complex issues, we may have additional questions for you or ask for photos to assist in finding a solution.
Third, after your issue has been resolved we will ask for feedback about RSMAP through an online survey. Your experience and opinions are critical to helping us improve the program and sustain funding.
For additional maintenance assistance, contact our providers, follow the simple steps below, review the attached documents or contact - [email protected] / (443) 449-8230.
Water plants regularly if there has not been a significant recent rainfall
Regularly weed, prune, and mulch the garden
Clean the downspout connection to prevent from clogging
Remove trash or other debris from the rain garden