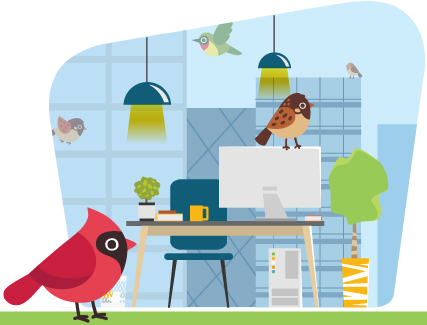 IT'S MIGRATION SEASON!
HELP SAVE A BIRD'S LIFE!
Turn off office lights
Move plants away from windows
Lower blinds
Migrating birds can't see window glass. Unfortunately, to them, the large plant next to your window looks like a great place to rest. Bird strikes kill up to one billion birds each year in the United States.
FLIP THE SWITCH!
The easiest way you can help protect birds during migration is to turn off all unnecessary lights at night!
SPRING: March 15 to June 1
FALL: August 20 to November 10
WHICH LIGHTS SHOULD YOU TURN OFF?
Lights behind large expanses of glass
Floodlights, searchlights, and spotlights
Lights aimed upward or into the sky
Perimeter and "vanity" lighting
Lights in glass walkways between buildings
Lights that illuminate plants behind windows
Lower blinds to help birds "see" the glass and move your large plants away from the window.
FOR MORE INFORMATION CONTACT:
City Wildlife Lights Out DC: citywildlife.org
Or contact Mary Lynn Wilhere, Urban Sustainability Administration at (202) 535-1939 or email, [email protected].