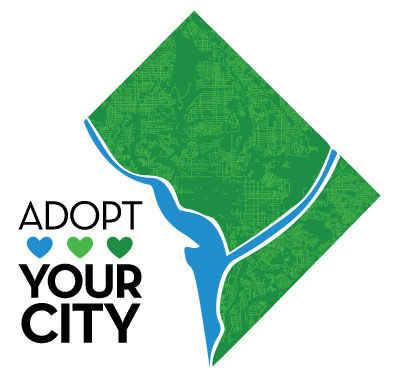 The Adopt-A-Park program is for District residents interested in keeping a neighborhood park safe and clean for the community to enjoy. By picking up litter and other waste blown, washed or illegally dumped into local parks, you are also preventing trash from polluting streams, rivers and oceans, endangering wildlife along the way. The program will expand to include other activities in 2018.
Who should volunteer?
Any District resident, community group, association, corporation, or governmental agency interested in improving a neighborhood park through routine litter pickups and other beautification projects.
To participate in the Adopt-A-Park program, volunteers must agree to:
Regularly engage in litter pickups in your adopted park. How often you do this is up to you, as is whether you'd like to organize clean up events with other people or work alone.
Report needed repairs, safety concerns, and other activities (like illegal dumping) through the proper channels.
Report data required by the property owner. For example, all volunteers must regularly report volunteer hours at cleanup events.
If you have an interest in additional projects beyond those listed above, like planting flowers or installing more benches, it's possible these activities could be part of the program. Volunteers would need advance approval from the agency owning the park for any additional activities.
Interested in signing up?
Fill out the Adopt-A-Park form. Because parks in the District can either be locally owned by the District's Department of Parks and Recreation or federally owned by the National Park Service, we need to know which park is of interest in order to direct you to the correct branch of the program.
We will follow up on next steps once we have received your information. For questions on the program, you can contact Kyaira Ware at (202)815-4112 or [email protected]