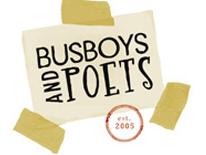 Busboys and Poets
2010 Mayor's Environmental Excellence Award Winner:
Outstanding Achievement by a Restaurant
---
Busboys and Poets is a full service restaurant and bar, founded on the notion that a restaurant can offer more than just food and drink. Busboys & Poets view a commitment to environmental sustainability as an ethical obligation that they have to their surrounding neighborhood and the world.
Featured accomplishments:
Busboys & Poets is certified B Corporation™ which is a designation that differentiates good companies from just good marketing. B Corporations™ meet higher standards of social and environmental performance and legal accountability. Both of their Washington, DC locations are powered by Clean Currents, meaning that they use clean power from wind, a renewable energy source.
At all three locations, Busboys & Poets recycle all of their kitchen oil for biofuel and recycle most paper, plastic, glass, and aluminum. At their Virginia location they have installed low-flow aerators on all restroom sinks and changed all of the lightbulbs to compact fluorescent lighting in the event space.
A number of their products are environmentally friendly. For instance, they use green cleaning supplies, their menus are printed on 100% recycled paper, and all of their carry-out items are recyclable (i.e. cutlery, containers, and coffee cups). In all offices, they use 100% recycled copy paper, recycle ink cartridges from printing and opt for the highest content of post-consumer recycled products for other items (i.e. ink pens, folders, writing pads, etc).
Busboys & Poets serves 100% fair trade certified and organic coffees and teas. They offer organic wine, beer and liquor. They primarily serve Sustainable Seafood.
Busboys & Poets also believes strongly in transparency which they see as an important component to any environmental agenda. Whether it is information pertaining to food source, food and beverage ingredients, operational issues, etc., they strive to make as much information available to their consumers as possible. They ensure effective and accurate dissemination of information through both posting information and educating members of their staff on all aspects of the business' operations.
Lastly, Busboys & Poets host a variety of environment-related events that provide a platform for members of the community to come together, discuss and learn about environmental causes and issues. For instance, on January 20, 2010 they hosted an author event co-sponsored by the Environmental Working Group for the book, Slow Death by Rubber Duck: The Secret Danger of Everyday Things. During this event, authors, Rick Smith and Bruce Lutheirie, discussed how the most dangerous pollution is no longer just about belching smokestacks and ugly sewer pipes but comes from commonplace items in their homes and workplaces. They closed the event by providing simple ideas for people to protect themselves and their families and changing things for the better. Also, mid-2009 they launched a series called G.R.A.S.P., Green Resources and Sustainable Practices. G.R.A.S.P. is a monthly sustainable living series with a new theme for each event. It is aimed at members of the community that are interested in leading a more "earth-friendly" life but are not sure how.