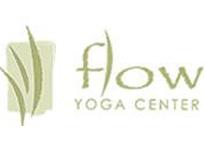 Flow Yoga
2009 Mayor's Environmental Excellence Award Winner:
Outstanding Achievement by a Small Business
---
One of Flow Yoga Center's core values, inscribed in their mission statement, is to run their business in an environmentally conscious manner. The Flow Yoga Center community makes this a reality in their daily operations by asking themselves, each time they face a business decision or purchase, how they can make the process "greener." From the physical development of the space to the snacks they serve in their lounge, Flow Yoga continually strives to find and implement the answers. Below, you'll find a description of many of the steps they've taken.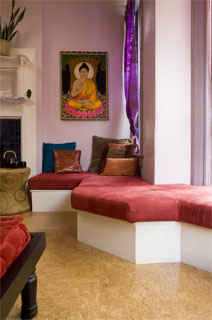 Following principles of sustainable design, Flow Yoga Center worked with local LEED-certified architect Chris French and LEED certified builder Chris Van Arsdale to convert the vacant third floor of a Logan Circle Victorian building into an eco-friendly yoga studio. The design took advantage of the space's natural light and airflow to maximize energy conservation. During construction, the building was heavily insulated, the outdated HVAC system was replaced with a new, energy efficient, Energy Star-rated ceiling fans were installed, and all windows were replaced. Other conservation-friendly choices included fixtures like low-flow toilets, energy efficient hand dryers (to eliminate the need for paper towels), programmable thermostats, water filters on faucets, lights on timers, and compact fluorescent light bulbs.
Construction materials used in Flow's build-out were selected with environmental sustainability and low toxicity in mind. For insulation, they used UltraTouch Natural Cotton Fiber insulation, a Class-A Building Product created from 85% post-industrial recycled natural fibers that is free of airborne particulates and chemical irritants. The walls are painted with zero VOC paints to eliminate toxic off-gassing and the flooring is a combination of sustainably harvested materials like bamboo and cork (finished with naturally-derived stains) and Marmoleum, a biodegradable, non-allergenic material that was installed without solvent-based adhesives. Some elements of the space– the studio doors, for example – are materials recycled from previous uses.
Just about every other resource at Flow – from cleaning products to cups – is selected for eco-friendliness. They neither sell nor serve bottled water, opting instead to filter water and serve it in re-usable glasses. They also provide incentives for students to switch from bottled water by selling stainless steel canteens at cost. The snacks offered in the lounge area are organic and often from regional manufacturers. For very large events that require disposable tableware, they choose corn or recycled-paper-based alternatives to plastic cups and plates. All cleaning products used at Flow are eco-friendly including Vermont Organic Castile soap, Bona wood cleaner, and Simply Green all-purpose cleaner.
Flow's main product is yoga classes, something that is inherently green. Still they've found several ways to make more environmentally friendly choices by using green alternatives to traditional yoga props in all classes, including cork (vs. chemically-based foam) blocks, latex (vs. PVC) yoga mats and recycled-fiber blankets. Additionally, they clean mats with non-toxic Vermont Organic Soap mat cleaner.
Flow's Environmental Outreach and Leadership
Flow has been a eco-friendly business since its inception in 2003. They are one of the founding members (and until recently the only District member) of the national Green Yoga Association, an organization devoted to creating and promoting standards for green yoga business practices. From this position, they've shared their knowledge of eco-friendly studio construction and operations with at least a dozen other studios across the country. They are excited to see the practices catching on, including with other District yoga studios.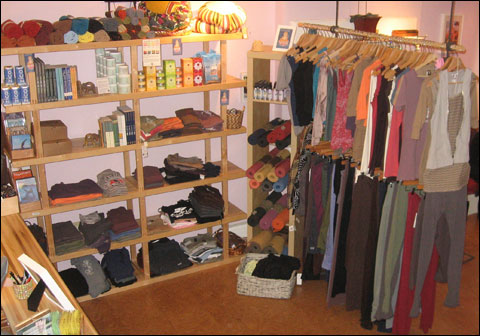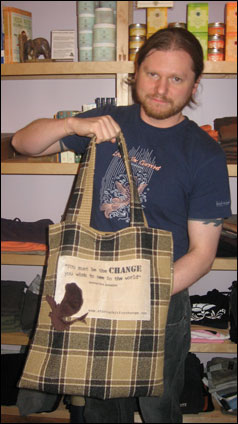 Tom Coen displays a natural fiber product; Debra Mishalove displays cork yoga blocks that are replacing foam blocks.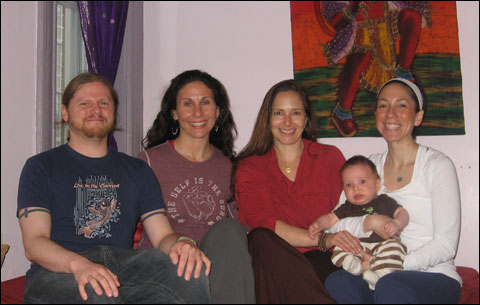 Flow Yoga Center Green Team
(left to right)
Tom Coen, Jessica Lazar, Debra Mishalove, Ximena Savitch (with baby)
(Not pictured, Jonah Mishalove)