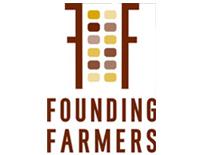 Founding Farmers
2010 Mayor's Environmental Excellence Awards
Outstanding Achievement by a Restaurant
---
Founding Farmers is one of the few restaurants in the District that focuses on sourcing food and products that have been grown and harvested through sustainable agricultural methods, from the meats, poultry and produce, to the beverages, spirits and wines. Just six months after opening, the restaurant was named a Certified Green Restaurant™ by the Green Restaurant Association for daily operational practices to reduce waste, and in April 2009, the restaurant was been awarded LEED Gold Certification status from the US Green Building Council (USGBC), for the commercial interior design of the restaurant.
Founding Farmers is the FIRST restaurant in the district to receive any sort of LEED certification to date.
HVAC System
Higher efficiency HVAC system - heat pumps exceed the Advanced Buildings Energy Benchmark, and ASHRAE 90.1. Heat pump efficiencies exceed ASHRAE by between 5-30%.
CO2 sensors are located throughout the restaurant to constantly monitor indoor air quality. Ventilation rates (fresh outside air) are at least 30% above code requirements.
Green Power
Purchase of green power credits for 100% of electricity consumption.
Materials and Finishes
Reclaimed heart-of-pine flooring from an old textile mill in Hickory, North Carolina – originally sourced from Wiggins and Company, and manufactured by ecofinishes in Maury, North Carolina. The flooring was made from reclaimed support beams salvaged from the textile mills. The salvaged beams were de-nailed, cut into blank pieces of lumber, kiln dried then molded into tongue and groove flooring.
Reclaimed barn door from a barn in West Virginia – sourced from Elmwood.
Reclaimed brick from Vintage Brick Salvage.
Over 15% of all construction materials were reclaimed.
Wood furniture (walnut tables, custom bar stools and side chairs) harvested from forests in PA and Ohio, and manufactured by Dunbar Furniture in Greensboro and High Point, North Carolina.
Metal disks are sourced from Follansbee Steel, which manufactures steel in Follansbee, West Virginia.
PaperStone countertops in restrooms are made from 100% post-consumer recycled content paper. PaperStone is made from cellulose fiber (paper) and non-petroleum based phenolic resin derived in part from natural phenolic oil in the shells of cashews.
45% of all materials manufactured within 500 miles.
90% of construction waste was recycled or diverted from landfills
Plumbing Fixtures and Water
Waterless urinals and low-flow lavs in restrooms
Water efficient Energy Star dishwasher and spray valve
In 2009, Founding Farmers saved at least 193,168 gallons of water compared to a conventional restaurant design (not including water efficient dishwasher and spray valve).
In 2009, Founding Farmers offset 70 tons of CO2 emissions with the purchase of credits through CarbonFund.org
Awards, Outreach, Partnerships and Affiliations
Grand Prize Project Winner, 2009 Design Awards of the National Capital Chapter of the US Green Building Council
Grand Prize, Restaurant/Casual, 2009 Association for Retail Environments Retail Design Awards
Project Winner, 2009 Earth-Minded Awards, Hospitality Design Magazine and ASID
Top 50 Best New Restaurant, Travel + Leisure magazine, June, 2009
The web site is an educational tool for visitors to learn more about sustainable agriculture and what it truly means to operate as 'the greenest restaurant in Washington, DC
Founding Farmers has been featured on numerous television and digital video sites and in segments on green restaurants, LEED restaurants, farm-to-table menus and the sustainable earth-friendly operations including for US News & World Reports, Metropolis Magazine, Architect's Newspaper, EarthNews.com, Travel + Leisure, Plenty Magazine, The Washington Post and the Washington Business Journal
Founding Farmers' business model is a model of sustainability – using the restaurant space to its maximum capacity while maintaining comfort and accessibility. The staff is informed and educated about the restaurant's mission and how they can also impact and minimize their impact on the earth, and best practices and information on the project are shared regularly with industry peers and fellow restaurateurs that are seeking to become more green themselves.
Certified Green Restaurant™
Founding Farmers is a one of only a handful of other businesses in the District of Columbia that are certified as a green restaurant, meeting criteria through actions that include:
Mitigation of energy waste through the use of motion-sensor lighting
Recycled paper with soy-based inks for menu printing
Composting of organic waste and recycling of non-organic waste on a daily basis
In-house water filtration system to eliminate the need for bottled water, eliminating the need for bottles, trucks to deliver them, and the tons of glass to and plastic to recycle each year
Low-flow toilets in the restrooms
Installation of Dyson high-powered hand dryers to eliminate the use of extra paper in the restrooms
Biodegradable garbage bags for any non-organic materials that cannot be recycled
Biodegradable boxes, utensils and bags for carry-out foods
Support of staff to bike to work (bike racks outside) or take public transportation as the restaurant is conveniently located on major bus routes and just a couple blocks from two different Metro stops.
Founding Farmers operates Carbon Neutral with the purchase of offset credits via CarbonFund.org, leaving no measurable energy waste footprint behind.
From right to left: The bar, made from reclaimed and recycled materials.
The staff of Founding Farmers on the grand staircase.
Environmentally friendly, biodegradable and recycled products are used throughout the restaurant.