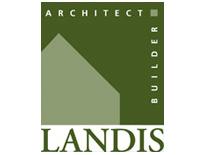 Landis Construction Corporation
2010 Mayor's Environmental Excellence Award Winner:
Outstanding Achievement by a Small Facility
---
In 2009 Landis Construction completed and certified one of their projects as platinum (highest level) under the US Green Building Program's Leadership in Energy and Environmental Design (LEED-H) program for homes. This is one of only 3 homes to achieve that rating in the District.
Landis Construction has won four NARI Metro DC Chapter CotY (Contractor of the Year) Awards for Green Construction in the last three years.

As part of their standard building practices, Landis Construction strives for environmental excellence. They have installed many high tech systems on many of their projects including ground source heat pumps, high efficiency condensing boilers and solar hot water heaters. As a design/build firm they take a rational approach to energy efficiency and sustainability and recommend that their clients spend their money on better insulation and windows before they consider something like photovoltaic panels on the roof. Landis Construction educates their clients not just on how their choices can effect the environment, but also reviews the anticipated payback period. Their projects typically feature:
Highest efficiency heating and A/C equipment.
Highly efficient spray foam insulation and carefully installed air sealing on all projects.
They use only a roll off dumpster company which recycles approximately 40% of dumpster content by weight.
They have separate recycling containers on all of our jobs to divert key products from the waste stream.
They salvage and donate demo'd material from most of our jobs. Materials are typically sent to Community forklift which stocks and resells them.
They use only paints and adhesives with Low-VOC (Volatile Organic Chemicals) content unless a homeowner specifically requests something else for their project.
Landis Construction believes that good design is sustainable. Work that is well designed and well constructed is more likely to be kept for a generation or more and less likely to be ripped out by the next owner of the home. They improve the neighborhoods they work in by completing renovations which blend with the architecture and style of the home and are sensitive to the scale of the neighborhood.
The Landis Building
In 2006, Landis designed and constructed 18,000 square feet of office space in Takoma, D.C. The building featured many of the Green Best practices which they employ in many of their projects including: foam insulation throughout, a reflective roof, a ground source geothermal heat pump and green finishes throughout. Landis also purchases Renewable Energy Credits to offset all the energy used by the building. They have a vigorous recycling program throughout that separates out all paper, plastic and metal. All of the cleaning and bathroom supplies used are non-toxic and biodegradable.