---
Thurgood Marshall Academy is a law-themed public charter high school serving low-income, under-resourced teenagers, 96% of whom live in Washington, DC's most disadvantaged communities--Wards 7 and 8. The school's mission is to prepare students to succeed in college and to actively engage in our democratic society. As a law-themed school, Thurgood MarshallAcademy helps students develop their own voice by teaching them the skills lawyers have-the ability to solve complex problems, think critically, and advocate persuasively for themselves and their communities.
Sam Ullery, teacher and leader of the 'Green Team'.
Thurgood Marshall Academy offers many opportunities, both in and out of the classroom, for students to learn about the environment, create positive change within their communities, and actively engage in our democratic society.One of the many extracurricular activities offered at Thurgood Marshall Academy is the Green Club. As environmental issues come to the forefront of national politics and debate, students have the opportunity to learn more about sustainable energy practices, local and organic farming, and the impact that their actions have on the community and the environment. The Green Club's most visible activity is tending the school's organic garden. A grant from the Earth Day Network helped the Green Club enter into a partnership with neighboring A. Kiger Savoy Elementary School to transform a half-acre section of under-utilized playground into a thriving green space which includes permanent gardens, wetland plants, an orchard, an outdoor classroom, and a greenhouse. Under the leadership of Thurgood Marshall Academy's dedicated faculty and staff, Green Club members care for the garden year-round, and are responsible for everything from planting the seeds to composting and weeding the beds, to harvesting the produce.
In recent years, Thurgood Marshall Academy students have been successful advocates for environmental justice and community health. Last April, a Thurgood Marshall Academy student testified in front of the DC City Council on behalf of the Green Club. His leadership in the club provided him with the knowledge and poise to explain the benefits of the DC Healthy Schools Act, which Thurgood Marshall Academy has adopted. When the proposed funding for the Healthy Schools Act was to be cut, students called their council members, encouraging them to keep the funding in place; their efforts were successful, and students continue to benefit from healthier food options at school.Students are now served nutritious snacks during after-school programs, and lunch is now provided by Revolution Foods, which sources mostly local ingredients for school meals, and uses only recyclable packaging. This change encourages students to become more aware of where their food comes from, and also reduces packaging waste.
Finally, the school building itself showcases Thurgood Marshall Academy's commitment to environmentalism. Housed in the former Nichols Avenue School, the facility was fully remodeled and renovated from 2004-2005 and includes numerous energy-saving measures. Some of these features include new double-glazed Pella windows, motion sensors that turn off unused lights, energy efficient fixtures/bulbs (high-efficiency electronic ballasts and fluorescent bulbs), and a new HVAC system. Other capital improvements further enhance energy efficiency, including sealing a skylight and installing weather-stripping on doors.In 2009, Thurgood Marshall partnered with the Earth Day Network to install a 2.8 kilowatt solar panel system and educational energy monitoring display for use in the classroom. This system will save the school approximately $35,000 in energy costs and 150,000 pounds of carbon dioxide over the 25-year warranty life of the system. Finally, Thurgood Marshall Academy's gymnasium facility, completed in 2009, was one of the first LEED-Certified school buildings in the District.
The Thurgood Marshall Academy community has embraced environmental stewardship as part of our commitment to social justice. Student activities, staff leadership, and administrative vision all contribute to the success of our environmental education efforts. Activities that promote environmental awareness and advocacy fit in seamlessly with Thurgood Marshall Academy's mission and academic focus. Just as faculty encourage students to engage in government, policy and the laws that govern society, green initiatives and special events make the potential impact of environmental policy more tangible.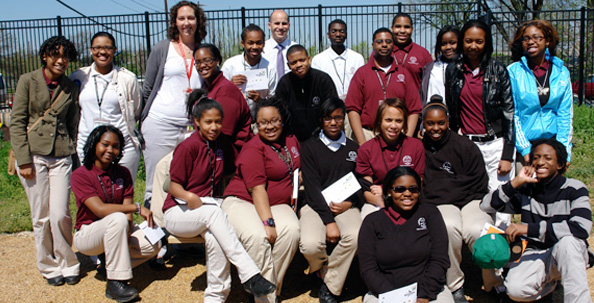 Back row (left to right): TeAsia Capies, Imani Scriber, Karen Lee, Shelina Scriber, Demitrius Farmer, Sam Ullery,
Malachi McCaskill, Stewart Gray, Andrew Alexander, Troy Springer, Kennika Masse, Courtney Jones, Japaria Ellison
Front row (left to right): Nadean Tally, Brianna Cook, Tanazia Matthews, Michael-Ann Henderson,
Rionna Pratt, Darlyquisha Hill, Mercades Raines, Markiano Owens