The Tower Companies
2009 Mayor's Environmental Excellence Award Winner:
Outstanding Achievement by a Construction/Development Company
---
The Tower Companies is a family-owned, award winning sustainable real estate Development Company founded by Albert Abramson in 1947. Tower pioneered the building of USGBC LEED® certified residential and commercial properties. Their portfolio includes 4.5 million square feet of office buildings, office parks, 1,500 apartments, regional malls, eco-progressive live-work-play communities and hotels in the DC area. Among their signature properties are The Millennium Building, Washington Square, 1050 K Street, Tower Building and 2000 Tower Oaks Boulevard. 90% of the company's properties are LEED® certified.
Tower has received numerous awards for their commitment to sustainability, energy independence and building some of the healthiest buildings in the region by national organizations, Federal and State agencies, including US Green Building Council (USGBC), Urban Land Institute, Harvard University, US Department of Energy, US Environmental Protection Agency and State of Maryland. Tower is an EPA ENERGY STAR® and Green Power Leader. In 2012 Tower was honored by the BOMA International 360 Performance Program Council for their buildings and also received the following awards: NAIOP Award of Excellence for 1828 L St, US Green Building Council NCR Project of the Year Award for Blair Towns, 2011 AOBA of Metropolitan Washington Go Green Community Award, 2010 MultiHousing News Award of Excellence for Development Company of the Year, 2009 NAIOP Green Building of the Year Award for 2000 Tower Oaks Blvd and numerous others since 2003.
Case Study 1 - The Millennium Building
1909 K Street, NW, Washington, DC – 240,000 SF
US Green Building Council LEED™ EB (Existing Building) Certified
US EPA Energy Star Rated
In 1997 Tower added an additional 85,000 SF to the existing 155,000 SF without increasing the energy consumption of the building, using the latest environmental technology available at that time; air filtration system removes 85% of airborne toxins, non-toxic building materials, low-E glass. The building is consistently Energy Star rated placing it in the top 25% most energy efficient buildings in the country, six years before the USGBC introduced their LEED guidelines. Building features a full-service on-onsite concierge, rooftop deck and garden.
Case Study 2 – Big Business Luxury Features for Smaller Firms
1050 K Street, NW, Washington, DC - 136,000 SF
US Green Building Council LEED™ Gold Certified
US EPA Designed to be Energy Star Rated
A co-development of The Tower Companies and The Lenkin Company, it is an 11-story, jewel-box office building incorporating the natural elements of air, water, earth and light, featuring the latest green technology, efficient water use, fresh indoor air, 100% wind power, maximized use of daylight, reduces tenants' carbon footprint, 26% more energy-efficient than ASHRAE 90.1 standards, saves 2 million gallons of water yearly, removes 85% of airborne pollutants, replaces 100% of the air every 55 minutes, recaptures run-off and groundwater for use on roof garden. Hi-tech glass system assures thermal comfort; over 60% materials sourced locally. Features sky garden, fitness center and private art galleries.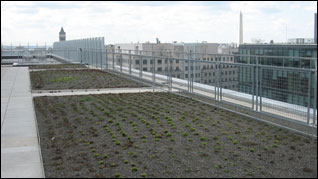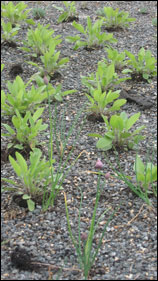 Newly installed green roof; close-up of plants



Bio-retention garden flows into the lobby ; use of natural light
Case Study 3 –Existing Building Renovations for LEED Tenant Build-Outs
1828 L Street, NW, Washington, DC – 300,107 SF

This ENERGY STAR and green powered office building was home to two LEED Silver certified companies. Tower retrofitted, renovated and installed energy-efficient systems to enable tenants to qualify for LEED build-outs. Tower Companies' other LEED certified buildings in DC include 1707 L Street and Washington Square. In 2009 Tower Companies delivered 2000 Tower Oaks Boulevard, the Region's first US Green Building Council's (USGBC) LEED Platinum office building, combined with the world's largest application of Vedic architecture, making it the healthiest building ever built.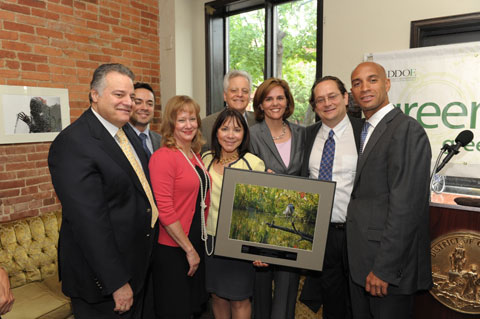 (Left to right)
The Tower Companies partner, Gary Abramson, Deluchhi+ executive, John Piedrahita, 1050 K Street architect and Hickok Cole principal, Yolanda Cole, The Oliver Group Inc. CEO, Elizabeth Oliver-Farrow, Tower partner, Jeffrey S. Abramson, Tower principal, Marnie Abramson, and George S. Hawkins, Esq., Director of the District Department of the Environment with Mayor Adrian Fenty.