<< Back to Climate Adaptation and Preparedness main page

Resilience Hubs in the District
Climate Ready DC and Resilient DC call for the District Government to create Community Resilience Hubs. Community Resilience Hubs are public-serving facilities that provide information and services to build resilient communities before, during and after emergency events. As climate change brings more flooding, heat waves and severe storms to the District, Community Resilience Hubs will complement our existing emergency response services and serve District communities year-round by promoting health, providing meeting spaces, educating the community about risks and emergency preparedness and supporting workforce development.
The District is committed to building the resilience of people, and their trusted sites, in communities especially vulnerable to climate hazards.
What is a Community Resilience Hub?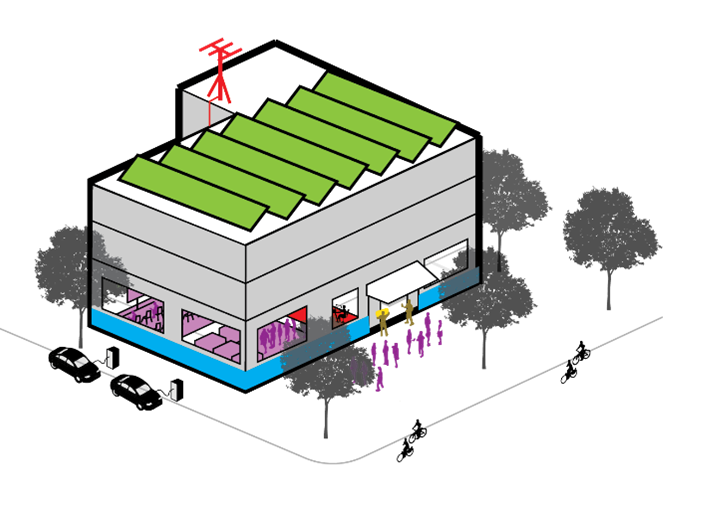 A community resilience hub ("resilience hub") is a community facility that connects residents to resources and services to help a community be prepared for disruptions, including chronic stressors and acute emergencies. Resilience hubs are open in times of emergency, but also—importantly—during everyday "steady state" periods. During normal operation (up to 99% of the time in some cases), resilience hubs connect residents to resources, build resilience-related skills, and cultivate relationships in the communities they serve. Hubs can meet a number of physical and social goals by using a trusted physical space such as a community center, recreation facility, or multi-family housing building as well as the surrounding infrastructure such as a vacant lot, community park, or local business.
Resilience hubs are much more than just buildings equipped with physical assets like backup energy, food, water, temporary heating and cooling, and access to power, which can be deployed in the event of an emergency. Resilience hubs also meet everyday community needs through activities like after-school programming for students, events for elders, and job training. By focusing on people more than potential hazards, resilience hubs support communities to become more self-determining, socially connected, economically strong, and connected to resources. This in turn builds both individual and community resilience and improves outcomes during and after emergencies.
The District's approach to resilience hubs is informed by the Urban Sustainability Director's Network and the Ward 7 Resilience Hub Community Coalition Proposal, both of which call for resilience hubs to incorporate five foundation areas through three modes of operation.
Three Modes of Operation
| | | |
| --- | --- | --- |
| Normal | Disruption | Recovery |
| Also called "Steady State" or "Blue Skies", a resilience hub is in this mode 99% of the time. At its core, the resilience hub serves as a central point to design and implement a strategy to address root causes of vulnerability and help the community thrive. In addition, the resilience hub can deliver preparedness messaging to the communities that the Hub serves, and site leaders can work with trusted community leaders to disseminate information and facilitate stronger community ties before a disruption. | A community's resilience hub can be the central point for gathering, assessing impact, sharing stories, assembling information, accessing resources, and spearheading response in the event of an emergency. | Resilience hubs play a critical role in post-disruption recovery and ongoing communications needs. For resilient communications, the site can remain a central point for gathering, sharing information, and accessing or redistributing resources. Hubs can also provide space for additional experts, aid organizations, volunteers, and community support networks to gather and better understand and address community needs. |
Five Foundational Areas
| | |
| --- | --- |
| Programming | Services and programs can build relationships, promote community preparedness, and improve residents' health and well-being. Resilience hub services and programs should be open to participation by the surrounding community and be based on the needs, priorities and interests of local residents. |
| Communications | A resilience hub must be able to communicate within and outside the service area year-round and especially during disruptions and throughout recovery. |
| Resilient Design | The building and landscape of the resilience hub should support its ability to meet its operational goals in all conditions. DOEE's Resilient Design Guidelines provide guidance on how a facility can pursue infrastructural improvements based on its potential risk to the impacts of climate change. |
| Power | Resilient power systems (for example, solar panels and battery storage systems) are one strategic feature of community resilience hubs that enable these facilities to operate and provide services such as refrigeration, cell phone charging, and communications during power outages. |
| Operations | A resilience hub must ensure personnel and processes are in place to operate the facility in all three modes. |
Ward 7 Resilience Hub Pilot Project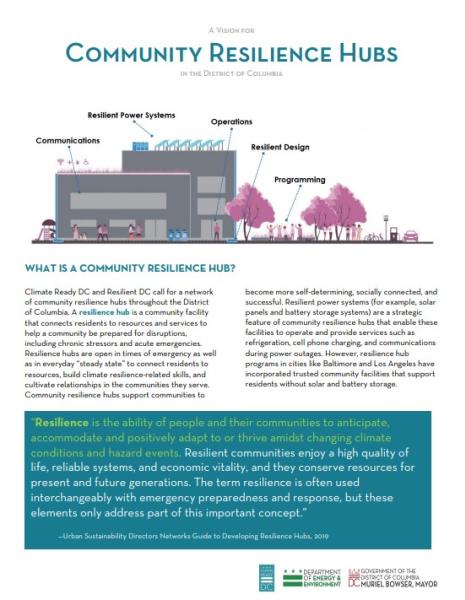 Beginning in 2017, the District began meeting with community members from the neighborhoods surrounding the Watts Branch tributary in Far Northeast Ward 7 to address climate resilience. This geographic focus area was chosen because the Climate Ready DC plan found that these neighborhoods face high risk from climate change. In 2018, these community members coalesced around three high priority climate initiatives: neighborhood-scale resilience hubs, a workforce development program for the resilience economy, and an expanded workforce program for non-college bound youth.
DOEE is now collaborating with the Resilience Hub Community Coalition (RHCC) and the F.H. Faunteroy Community Enrichment Center (FCEC) on a community-led partnership to establish the District's first resilience hub, called the Resilience Incubator@FH Faunteroy. The project was awarded a three-year grant from the National Oceanic and Atmospheric Administration (NOAA) in 2023 to further develop their "blue skies" operations and programming, including climate-related workforce development, and other environmental literacy projects. Georgetown University Law Center's Harrison Institute for Public Law supported early on and will continue to provide legal advice and technical assistance on the establishment of the hub. This project will inform how future community resilience hubs can be established to create a network of hubs throughout the District of Columbia.
Learn more about the Ward 7 community engagement process and the RHCC proposal for a Ward 7 resilience hub
Resilience Hub Resources