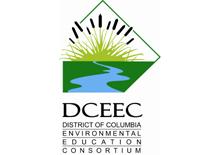 The District of Columbia Environmental Education Consortium (DCEEC) represents over 20 environmental education organizations operating in the District of Columbia.
Since 1993, DCEEC has provided a communication network that enhances the abilities of its members to increase environmental knowledge and awareness in students, teachers and adults within the District.
Today DCEEC continues to provide opportunities for networking, event coordination and program partnering amongst its members while facilitating professional development and educational opportunities in the District that support and enhance required learning standards in DC.
DCEEC members provide the District of Columbia Schools:
environmental resource expertise
educator workshops and accredited courses
interactive classroom and field studies or investigations
classroom curricula and materials
To find out more, visit the DCEEC website.