<< Back to Hickey Run Watershed Main Page
There are many historical challenges to creating a healthier watershed. Although the stream is cleaner than it has been in the past, Hickey Run is still very polluted by trash, bacteria, low oxygen levels, excess sediments, toxic chemicals and metals, making the stream harmful to humans and wildlife.

Oil from pavement or other (sometimes unknown) pollution sources drains to Hickey Run.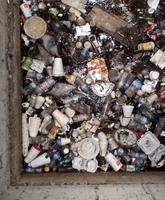 Trash and litter from the streets washes into the sewers and is collected in a trash trap.