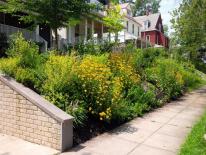 BayScaping
BayScaping is a landscaping practice that replaces grass with plants native to the Chesapeake Bay region. Native plants have deeper root systems that absorb more stormwater, reduce erosion, increase infiltration, and are more drought resistant than turf grass or ornamental species. BayScaping also provides beneficial habitat for pollinators like butterflies and honey bees.
BayScaping is a low-cost alternative to traditional landscaping.
How to BayScape
BayScaping is practical nearly anywhere in your yard but is preferred in sloped or eroded areas where dirt, bare soil, and/or invasive plants could be replaced by native plants that stabilize slopes and absorb more stormwater. BayScaping is designed to individual site characteristics, factoring in topography, soils, drainage patterns, and sun exposure. There are many readily available resources to assist you in finding native species to the Chesapeake Region to plant.
Benefits of BayScaping to the Homeowner
BayScaping requires less maintenance and money than a traditional grass lawn, and each BayScape can be unique in its aesthetic beauty. Specifically, BayScaping:
Minimizes the need for mowing, pruning, irrigation and fertilization
Costs typically half or as little as one-fifth the cost of conventional landscapes
Can be creative and fun, designed with plants of your choice
Benefits of BayScaping to the District
The District is promoting BayScaping because it improves the health of local streams and waterways by absorbing more stormwater than a conventional landscape. Native plants used for BayScaping:
Are more adapted to local climate conditions than exotic non-native species, resulting in less need (and cost) for herbicides, fertilizers, pesticides, or soil conditioning
Help to remove pollutant sediments and heavy metals (i.e. cadmium and lead) from ground water
Stabilize soils and prevent erosion
Support local wildlife such as beneficial pollinators, songbirds, and butterflies by providing food (nectar and seed) and habitat.
Want to BayScape your yard? RiverSmart Homes can help.
DOEE's RiverSmart Homes program offers incentives to homeowners interested in installing BayScaping on their properties and reducing stormwater pollution. Existing beds that have plant material cannot be recommended for BayScaping; 120 square feet minimum of soil, turf, grass, or lawn must be replaced with native plants. BayScaping is generally only recommended for slopes that show erosion.
BayScaping Maintenance
Bayscaping projects would need to be cared for, especially during the first two years following installation. To learn more about how to take care of your BayScaping, review the documents attached below and/or follow these simple suggestions:
Water plants regularly if there has not been a significant recent rainfall
Regularly weed, prune and mulch the garden  
Remove trash or other debris from the BayScaping