<< Back to Flood Risk Management main page
Background
The SW quadrant of the District of Columbia, which comprises the communities of Southwest and Buzzard Point, is at risk of flooding from stormwaters breaching the banks of the Potomac and the Anacostia rivers and/or from extreme rain events. During these latter events, extreme quantities of rainwater can quickly overwhelm the stormwater system and the natural capacity of the area to absorb and convey excess water away from residential and commercial areas. Areas most at risk of flooding from water breaching over from the rivers are identified and captured in the FEMA 100-year and 500-year flood plain maps. However, flood risk from extreme rain events, also known as interior flooding, is harder to predict and can happen almost everywhere, including in areas far from bodies of water. Even more, interior flooding is a much more frequent nuisance and risk than flooding from the Potomac River.
While floods from rivers can be managed with infrastructure projects like levees and flood walls that keep floodwaters away from residential and commercial areas, interior flooding due to extreme rain events has to be managed where the rain falls. This can be done effectively through a combination of increased natural absorption (e.g., more trees and plants), upgraded underground stormwater infrastructure to add capacity to the system, and tanks and cisterns to store excess water – this combination of nature-based and infrastructure solution is called Blue/Green Infrastructure or BGI. Additionally, upgrading the blue and green infrastructure in a community is a great opportunity to rethink urban spaces and create value for residents through solutions that go beyond implementing underground pipes. Examples of how blue and green infrastructure can increase the quality of urban spaces include: lower summer temperatures, better recreational spaces, and better air quality.
Project Description
SW/Buzzard Point Flood Resilience Strategy will design an integrated network of Blue/Green Infrastructure (BGI) to protect the SW and the Buzzard Point communities from interior flooding due to extreme rain events. The strategy will re-design open spaces and streets to function as a network of connected, floodable, multipurpose infrastructure projects that can absorb and contain excess stormwater during extreme rain events and easily return to its original/main function (i.e. transportation, recreation, parking etc.) after the excess stormwater is absorbed or conveyed away. Although the Strategy is focused primarily on flooding due to extreme rain events, the Strategy is expected to work in concert with, and reinforce, future efforts to prevent coastal flooding due to storm surge, hurricanes and sea level rise. The development of the Strategy will be led by the DOEE in collaboration with District, Federal Agencies and local stakeholders and will take approximately 12 months (May 2022 – May 2023).
The Strategy is funded through a local budget appropriation for the implementation of the 2019 Resilient DC Plan and supplemented by a FEMA grant. Additionally, it is identified as a specific implementation item in the 2015 SW Small Area Plan and the 2016 Climate Ready DC Plan. The Strategy also aligns with policy goals set in the Comprehensive Plan, the 2003 Anacostia
Waterfront Initiative Framework Plan, the Sustainable DC Plan and the Buzzard Point Vision Framework + Design Review Guide.
Summary Project Timeline:
Summer 2022: Listening to residents and stakeholders and completing the existing conditions analysis and flood modeling
Fall 2022: Design the draft BGI Network Plan and the open space plan with the community
Spring 2023: Create and get feedback on design concepts for the first infrastructure project
Final Strategy Contents:
Existing Conditions Analysis Report
Area flood modeling
Parks and open space framework
Updated streetscape guidelines for Buzzard Point
A community-wide BGI flood resilience plan
Concept Designs for "phase One" project
A 10-year construction phasing plan
A cost benefit analysis of implementing the strategy
A financing strategy
Stay involved, learn more, give us feedback:
There are 6 main ways you can stay involved in this project and give us feedback:
Meetings: as a COVID 19 precaution, instead of holding large in-person community meetings in closed rooms, we are holding smaller in-person meetings, online meetings, and meetings outdoor (see photos below). We have also organized a Community Leaders Working Group to gather ANC Commissioners, civic group leaders and other stakeholders for smaller meetings. At each phase of the Strategy development (Summer 2022, Fall 2022, Spring 2022) we will be holding public meetings with residents and stakeholders. If you would like to join any of our meetings, schedule a presentation for you and your group, or meet us in the community to review our boards together, email your request to

[email protected]



Coming up:

Community Meeting: The third Community Leaders Working Group meeting will be in February 2023.
Project Boards: Detailed boards about the project (see photo below) are being circulated around the community for engagement and outreach. Between October 1 and December 1 the project boards will be outside the SW Library; December 1 to February 1 project boards will be outside the King Greenleaf Recreation Center; after February 1, 2023 the boards will be installed at Lansburgh Park.
Take the Survey! Tell us your experience with minor and major flooding in SW and/or Buzzard Point
Share your photos: Share your photos of ponding and flooding in SW and Buzzard Point. Just email the photos you took to

[email protected]

– do not forget to include the date of event, location and your name if you'd like to be credited for the photo

Past events:
The first Community Leaders Working Group meeting was Friday, June 24, 2022 at the Westminster Presbyterian Church. The meeting presentation is available.
DOEE staff presented project boards and solicited residents' feedback during the SW Farmers Market on Saturday, June 25, 2022.
The second Community Leaders Working Group meeting was Thursday, October , 13 2022 at the Westminster Presbyterian Church. The meeting presentation is available.
DOEE staff presented project boards and solicited residents' feedback during the SW Farmers Market on Saturday, October 15, 2022.
Give us your feedback: Read and review past presentations and materials and send us feedback at

[email protected]
Program Contact
For more information regarding flood mitigation efforts in SW and Buzzard Point, please contact [email protected]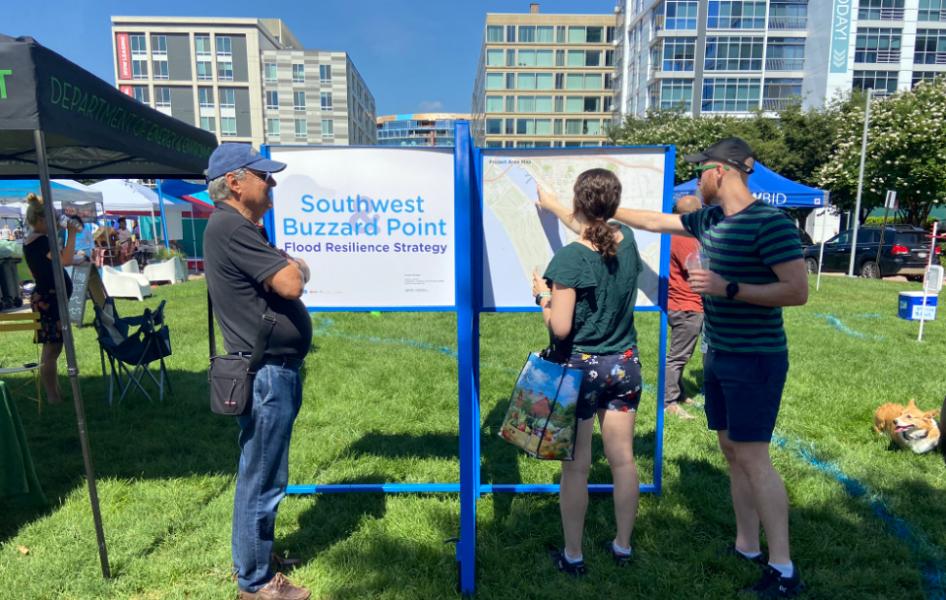 Residents reading and discussing project boards at the SW Farmers Market in June 2022


First meeting of the Community Leaders Working Group in June of 2022


Photo of interior flooding at the intersection of V St and 1st St SW sent by a resident