<< Back to Flood Risk Management main page
Background
The SW quadrant of the District of Columbia, which comprises the communities of Southwest and Buzzard Point, is at risk of flooding from stormwaters breaching the banks of the Potomac and the Anacostia rivers and/or from extreme rain events. During these latter events, extreme quantities of rainwater can quickly overwhelm the stormwater system and the natural capacity of the area to absorb and convey excess water away from residential and commercial areas. Areas most at risk of flooding from water breaching over from the rivers are identified and captured in the FEMA 100-year and 500-year flood plain maps. However, flood risk from extreme rain events, also known as interior flooding, is harder to predict ahead of time and can happen almost anywhere, including in areas far from bodies of water. Interior flooding is also a more frequent nuisance and risk than flooding from the Potomac River.
While floods from rivers can be managed with infrastructure projects like levees and flood walls that keep floodwaters away from residential and commercial areas, interior flooding due to extreme rain events needs to be managed where the rain falls – roofs, streets, parks etc. This can be done effectively through a combination of increased natural absorption (e.g., more trees and plants), upgraded underground stormwater infrastructure to add capacity to the system, and tanks and cisterns to store excess water – when these nature-based solutions and infrastructure solutions are combined together into a communicating network of stormwater infrastructure these systems are called Blue/Green Infrastructure or BGI. Additionally, upgrading the blue and green infrastructure in a community is a great opportunity to rethink urban spaces and create value for residents through solutions that go beyond implementing underground pipes. Examples of how blue and green infrastructure can increase the quality of urban spaces include lower summer temperatures, better recreational spaces, increased mental health, increased biodiversity, cleaner rivers, and better air quality.
Project Description
Over the course of 16 months of flood modeling, planning, and receiving input and ideas from the public, stakeholders and from District and Federal agencies, SW/Buzzard Point Flood Resilience Strategy has designed an integrated network of Blue/Green Infrastructure (BGI) to protect the SW and the Buzzard Point communities from interior flooding due to extreme rain events. Within this BGI network open spaces and streets are re-designed to function as connected, floodable, multipurpose infrastructure projects that can absorb and contain excess stormwater during extreme rain events and easily return to its original/main function (i.e. transportation, recreation, parking etc.) after the excess stormwater is absorbed or conveyed away. The implementation and construction of the network will be phased throughout several years over the next decade as the District identifies funding for each project and leverages already planned infrastructure projects in the area that can be designed to connect to the wider network. Although the Strategy is focused primarily on flooding due to extreme rain events, the Strategy is expected to work in concert with, and reinforce, future efforts to prevent coastal flooding due to storm surge, hurricanes and sea level rise.
DOEE is the lead agency in the development of the Strategy which it created with the input of residents, stakeholders and District and Federal Agencies between March 2022 and July 2023. The Strategy is funded through a local budget appropriation for the implementation of the 2019 Resilient DC Plan and supplemented by a FEMA grant. Additionally, it is identified as a specific implementation item in the 2015 SW Neighborhood Plan (Small Area Plan), the 2016 Climate Ready DC Plan, the Comprehensive Plan and the Buzzard Point Vision Framework + Design Review Guide.
Strategy Implementation and Next Steps:
A large BGI network extending the length and width of the SW quadrant is not something that can be built at once because of cost reasons and to avoid disrupting the neighborhood. Therefore, one of the Strategy tasks is to phase projects and to prioritize them through flood risk modeling and equity risk analysis – areas at higher risk of flooding will be prioritized for BGI projects. According to DOEE's analysis and flood modeling, Lansburgh Park and King Green Leaf Park areas are the priority areas where the first projects that will create the BGI network should start. This creates an opportunity for the District government to work closely with residents to re-envision and redesign these parks to be better recreational space for the community surrounding them while also becoming flood resilience assets. Starting in 2024, DOEE will partner with the Department of Parks and Recreation (DPR), the Department of General Services (DGS) and the Homeland Security and Emergency Management Agency (HSEMA) to further engage residents, local stakeholders, local and federal agencies in additional workshops and meetings to finalize the design of these two parks. Other BGI projects that will create the full BGI network for Southwest will include upgrades to other local streets and parks as opportunities and funding are identified over the next decade.
Community Engagement:
DOEE held a variety of meetings and conversations with community members and stakeholders at each phase of the Strategy development (Summer 2022, Fall 2022, Winter 2023, Summer 2023). DOEE's engagement included large and small in-person community meetings at the SW Library, local churches and the Arena Stage, site visits with residents in key areas like Lansburgh Park and attendance with materials at the local farmers market, online meetings and presentations with the ANC 6D, SW Neighborhood Assembly (SWNA), SW Action, SW BID and the Capitol Riverfront BID, meetings and presentations with federal agencies, an art exhibition and talks on flood risk at DC Culture House, and a closing Block Party event at Lansburgh Park. Additionally, DOEE, with the assistance of the SW BID, created a set of boards on a metal frame (see photo below) that were moved around the community throughout the planning process to keep the community informed about the project. Finally, the draft Strategy was shared with residents and local as well as federal agencies for a 30-day comment period in the summer of 2023.
Final Strategy Documents:
Public Comments:
Program Contact
For more information regarding flood mitigation efforts in SW and Buzzard Point, please contact [email protected]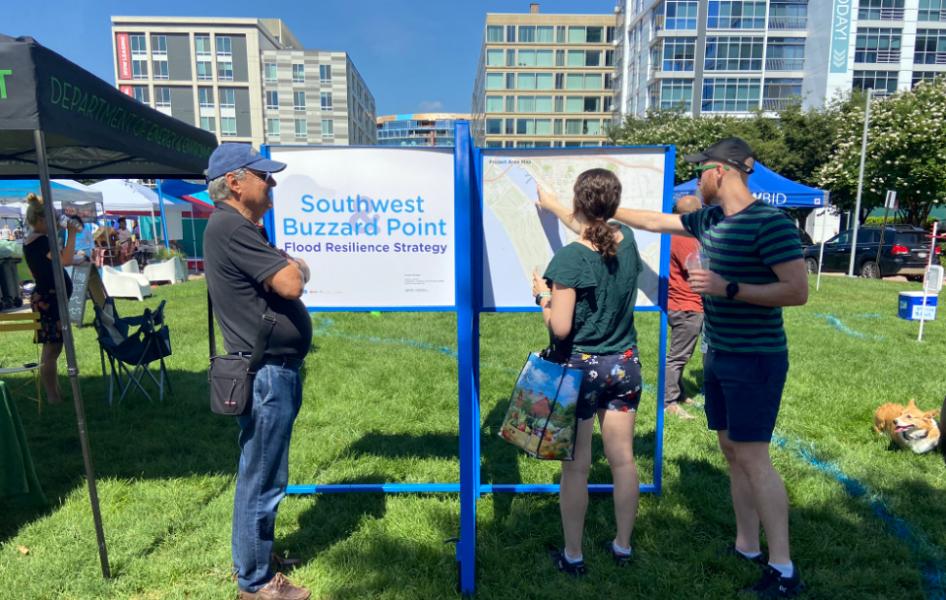 Residents reading and discussing project boards at the SW Farmers Market in June 2022


First meeting of the Community Leaders Working Group in June of 2022


Photo of interior flooding at the intersection of V St and 1st St SW sent by a resident


Rain Water ponding in Lansburgh Park after a rain event in February 2020


February 4, 2023 Community Open House at Arena Stage