City Blossoms: Kid Driven, Community Engaging, Creative Green Spaces
City Blossoms works with community-based organizations, neighborhood groups and learning centers to create outdoor spaces where children and youth can use their creativity, intellect, and energy to grow and maintain fantastic and functioning gardens. City Blossoms' youth-driven gardens provide healthy activities and safe spaces to play, explore and share food and culture with others. City Blossoms' founders designed a unique method of developing and managing robust green spaces where youth are engaged as the main cultivators. Transforming unused or underused land, each Community Green Spaces and its programming within are tailored to meet the specific needs of the neighborhood it serves, incorporating four core elements that constitute the City Blossoms model: healthy living skills, community development, environmental education, and artistic expression.
In the late 1990's two high-school students, Rebecca Lemos-Otero and Lola Bloom, began a volunteer gardening project in Columbia Heights, before urban agriculture or youth gardening were popular phrases. Since then the project evolved into City Blossoms and established its 501(c)(3) status in 2009. To date, City Blossoms has developed 34 green spaces throughout the city impacting over 9,500 children and youth through in-school, after-school, and summer projects. City Blossoms is currently collaborating with over 21 partner gardens (schools and community-based organizations) and two Community Green Spaces (CGS) that provide more than 1,300 hours of free and affordable interactive activities, engaging children, youth, and volunteers citywide. This year City Blossoms will provide almost 2,000 hours of free and affordable interactive activities to children and families, train more than 300 educators locally and nationwide, and distribute bilingual publications, including an early childhood curriculum and CGS cookbook.
To date City Blossoms' work has aligned with the Mayor's Sustainability Plan's goals and targets including:
Enhance access to parks and open spaces for all residents: Through the Community Green Spaces (CGS) and school gardens City Blossoms is providing almost 2,000 hours of free and affordable interactive activities to children and families in every ward in DC. By transforming empty or underused land City Blossoms is not only getting the city closer to its goal of accessibility to green spaces but is also creating connected programing aimed to helping children and youth reconnect and become comfortable with their natural surroundings.
Implementation of the Healthy Schools Act: Since 2012 City Blossoms collaborated with the Office of the State Superintendent of Education's School Gardening Program by participating as an "expert" in various trainings and information-gathering sessions. Through OSSE's School Garden Grant Program, made possible by the Healthy Schools Act, City Blossoms has had the opportunity to work with eight schools in the development and installation of on-site gardens for the last three years. Ensure that all school-age children in the District are educated in sustainability and prepared for a changing green economy: To date City Blossoms' work has impacted over 9,500 children in the D.C. area through the design and development of green spaces, lead teaching workshops to ages two-teen, and training of educators and community members.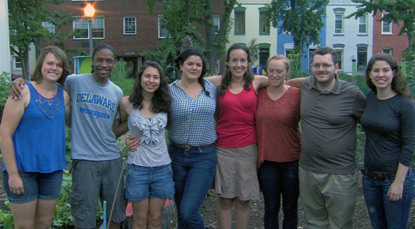 From Left to Right - Sarah Baker, Curtis Williams, Lauren Newman, Rebecca Lemos, Lola Bloom, Willa Pohlman, Stephen Schiavone, and Lauren Grady