Dumbarton House
2013 Mayor's Sustainability Award Winner
---
Dumbarton House serves as headquarters for The National Society of The Colonial Dames of America [NSCDA] as well as a historic house museum. A major tenet of both the NSCDA mission and the Dumbarton House mission is preservation. Preservation, in and of itself, is "green"—maintaining a structure rather than tearing it down to build something new models sustainability. Dumbarton House strives to be a leader in preserving our city's history and conserving its resources today and for the future.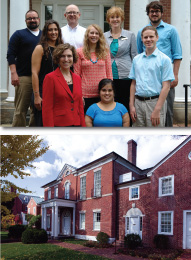 Back Row: Chris Heidenrich, Jerry Foust, Jan Scherer, Adam Frost
Middle Row: Bridgitte Rodguez, Jaclyn Peterson, Jacob Goldstein
Front Row: Karen Daly, Kanani Hoopai
With this in mind, and recognizing that the operation of buildings contributes to 41% of the United States' energy consumption (2010 Department of Energy Study), Dumbarton House has begun to "go green" in its operations in order to do its part to help the environment. Our journey began with individual staff and board members interested in operating the headquarters and museum in an environmentally friendly way, and in pursuing options for lowering operational costs. During this time, the national green museum movement has continued to take shape and influence the way that museums operate. Dumbarton House leadership decided to solidify its standing as a leader in the green museums movement by institutionalizing green practices into polices of sustainability.
As a non-profit, we want as much of our income as possible to go directly toward our preservation and education mission, rather than toward administrative and operational costs. Some of the sustainable initiatives we've pursued include:
purchase of 100% wind power for electricity usage (which is enough to power 15 homes for a year and is equivalent to offsetting over 100 tons of carbon dioxide emissions);
100% carbon offsets for gas usage (by purchasing into the carbon offsets program, we have actually saved 6 cents for every therm used, than if we had not gone with the program);
100% recycled paper products- from copy paper to toilet paper, whenever possible (our general office supply budget has gone down from $10,000 annually to just over $2,000 annually- in large part to purchasing items only when needed and reusing items as much as possible);
in‐house recycling program where everything from the usual cans and plastic bottles to post‐its, ink cartridges and water filters are recycled;
reuse packaging materials from items purchased (as a result, we no longer purchase bubble wrap or packing materials);
use real utensils and dishes as much as possible, rather than using disposable; and
install CFL light bulbs in all available light sockets, as bulbs die.