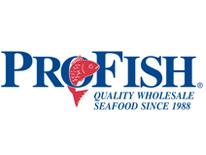 ProFish has always considered itself a leader in its industry; we feel that one should strive to do better for the next generation. In the case of sustainable practices, the world of seafood has presented tremendous opportunity for such leadership. While the industry has not been in the foreground of sustainability until recently, ProFish has always strived to be a leader in sustainable practices.
Our mission statement includes the moral guidance of honesty, integrity and civic responsibility. We have learned through the years that it is not enough to sit back and watch, but rather a company must be pro-active to achieve its aims. All individuals in a company (and that's how we really view ProFish – as a collection of individuals working in the same direction for the same goals) must all be on the same page and must espouse its core virtues with the individuals actions and efforts. ProFfish has many examples of doing this – from focusing on purchasing from properly managed harvests, to focusing on eradicating invasives, to creating one of the most advanced traceability programs in the industry (we call it the Fishprint), to designing internal systems that reduce waste whenever possible (like a Styrofoam™ recycling program to electrical efficiencies to solar energy, to waste conversion to fertilizer).
It is our aspiration that all recognize the need for awareness about giving the next generation something better than we have. It is one of our core values to help educate not only our customer base but everyone with regards to the proper management of our seafood resources and the proper attitude a corporation must have in the world today. We try to set the example by doing the little things day in and day out and by focusing on what we can control and doing the best we can to bring about that change.